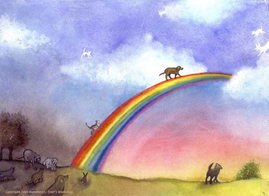 "Waiting at the Bridge" memorials are open to all SGRR alumni dogs and any beloved dogs who were not adopted through SGRR. Memorials may consist of one photo and up to 750 words about the adored pet. The cost is $25 per memorial, preferably made via PayPal. Please email your PayPal receipt number, text submission, and photo to: doggonegold@yahoo.com. SGRR encourages each of you who has loved and lost a wonderful pet, to honor them in this manner. By doing so, you will assist in funding the work SGRR does to continue saving the lives of homeless Goldens.


Click here to visit our older Rainbow Bridge dedications.
---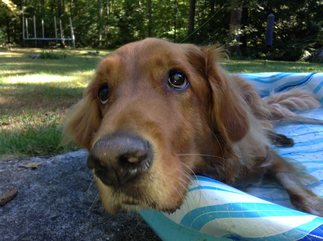 In Memory of Audie -
dog with special needs. He won the doggie lottery when he moved in with Jane and Ken, who provided him with a loving and nurturing home. Audie was greatly loved and will be missed by his large extended family.


~ Patty & John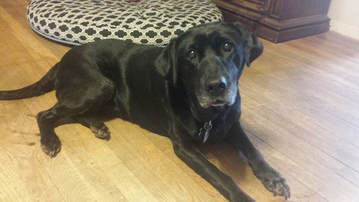 In memory of Cinder
Who learned about being a much-loved dog from
Dawn Anglin and her family
.
~from
Candy Van Sciver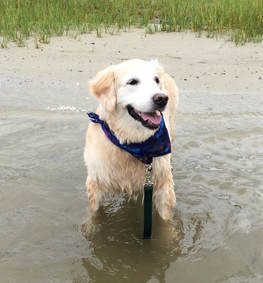 In Memory of Maddy:
She lived a full doggie life. Maddy loved to go swimming, play in the snow, go on road trips, and play with her doggie and human friends.



~ Brian & Mary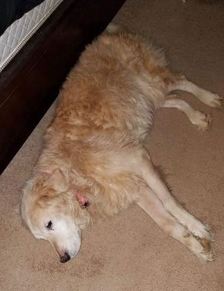 In memory of Miss Daisy.
RIP sweet girl.
~from
Susan Love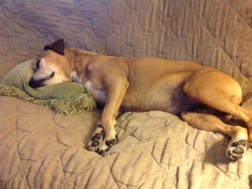 "


In memory of Cheryl and Paul's sweet Mae!
So happy that she was loved!

~ Kathy Kelly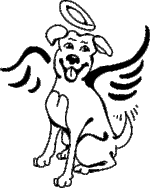 In memory of Maddie
for Michelle and Jason
~from
Kathy Kelly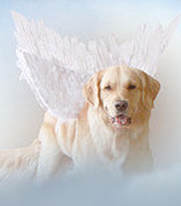 "


In memory of Linus...
Deepest sympathy to Donna and Joe

~ Kathy Kelly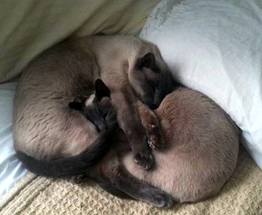 In memory of Charlie...
for Dimitri & Jeff
~from
Deborah J. Murray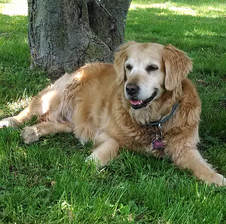 "


In memory of Sunshiney Sadie! So sad for the Toncic family!

~ Kathy Kelly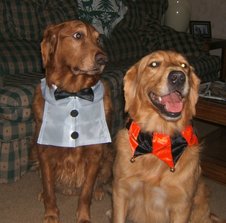 In memory of Ranger & Sadie
~from Susan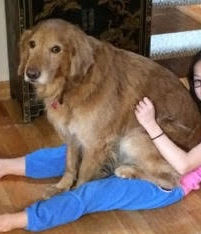 "


In memory of Pepper, much loved by the Sadowsky Family

~ Kathy Kelly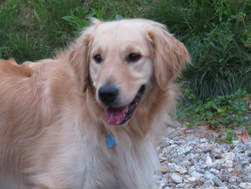 In memory of Flash Powell



~from Kathy Kelly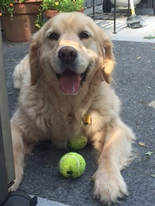 In memory of Bella Kaplan

~ Kathy Kelly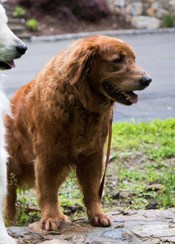 In honor of Otis Hunter

proud owners of Val & Jeff Hunter of CT

~from Bobbi Shirley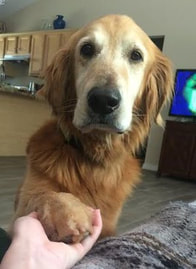 In memory of Boston

~ Donna, Ron, & King Mayne

~Kathy Kelly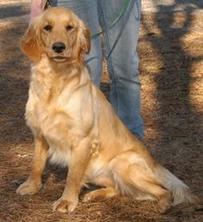 In memory of Allie Gallant
In memory of Allie Gallant... ~Grace Bennett
In memory of Allie Gallant... ~from Arthur and Lynne Abelson
In memory of Allie Gallant... ~Kathy Pence
In memory of sweet Allie... ~Elaine and Mike Prendergast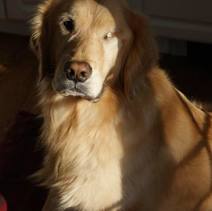 In memory of Morgan Stevens

~ Susan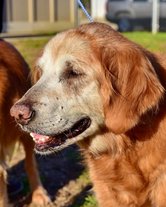 In memory of Corina (fka Korea) Beliveau

~from Kathleen Kelly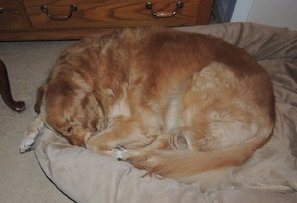 In memory of Jake Fredo

~from Kathleen Kelly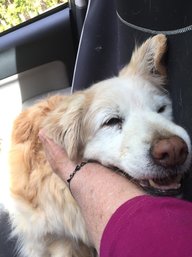 In memory of Goldie Love

"I hope you are at peace, Little One". ...Mom

~from Kay Anderson

~from Donna, Ron and King

~from Barbara & Gary Cohen

~from Kathleen Kelly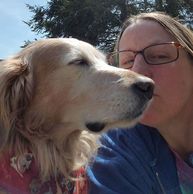 In memory of Mister Kumpf

from Kathleen Kelly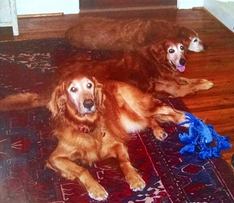 In memory of Lucy, Goldie, and Finale Hume

from Chris and Noreen Hume

In memory of Woody, a 2008 SGRR rescue

From his Mom, Barbara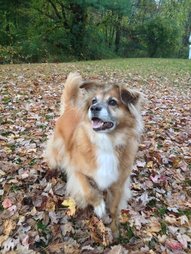 For Mariah...2003-2017
It had been nearly a year since our last dog died, and we were ready to adopt again. My daughter, who was then seven (she's now twenty), and I went to a rescue organization in Ludlow, Massachusetts, thinking we were going to meet a Lab mix we'd seen online. But when we got there, the woman took one look at us and said thoughtfully, "Hmm . . . I know you're here to meet the Lab, but I think I have another dog for you." She brought out Mariah, who bounded straight to my daughter and licked her face. That was it--she went home with us. And for the next thirteen years her greeting was the best part of the morning, and her soft fur made the nights that much warmer. ~Sue Warga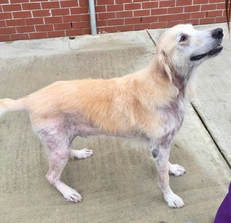 In memory of Rocky...
Thank you to Tracy, Jim, and their family for letting Rocky have the best Christmas in his forever home.
~Kathy Kelly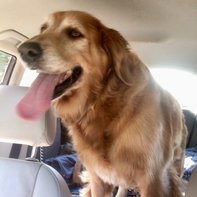 In memory of Nikki...

Thank you to and her loving owners Martha and Dave for giving her a forever home.

~Kathy Kelly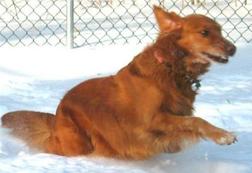 In memory of Reba, a SGRR rescue

~from Martha Breisch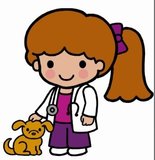 In memory of Hudson, beloved companion of Dr. Carol Carberry...
~from Dr Eric and Nancy Fremed.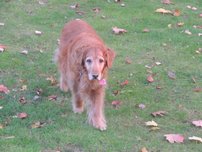 In memory of Amber Fredo, beloved girl of Patty and Frank...
~Donna Toncic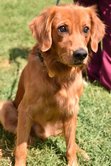 In memory of Goose, Paul & Mimi Morin's boy
~from Kathleen Kelly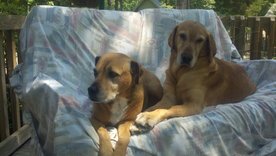 In memory of Truman, Cheryl and Paul's forever foster, with gratitude for all they've done...

~Heather (2012 SGRR dog) & Maryanne

In Memory of Jiva - It seems like only last May that I spotted Jiva (then called Jessie) on the SGRR site and fell in love. I always knew she was special, but little did I realize just how special she was until she was gone. Well, I always knew she was special to me, but it's all the other people she brought into my life and whose lives she impacted that really made it clear to me how influential she was. Over the course of more than 10 years together she introduced me to countless kids who read to her and told her stories if they were too young to read; she "assisted" when I taught yoga to people with mobility issues, always knowing just how to approach and emotionally support each student; bringing smiles to nursing home residents; earning the trust of folks who were uncomfortable around dogs; and just being a wonderful companion. She is missed by many and will always be remembered by all who knew her. I love you, Jiva the diva the Golden Retriva! ~Barbara Sager


| | |
| --- | --- |
| | In Memory of Luna, whom we adopted from SGRR in 2010 and was a wonderful member of our family for six (too short) years until she succumbed to metastatic cancer. She brought so much joy and love to our lives. We miss her dearly and will hold hold in our hearts forever. Thanks for all that you and SGRR do for dogs like Luna - and families like ours! ~From The Rosenzweig Family |
---
In Memory of Gizmo McNeill

In Memory of Gizmo McNeill
~Kathy Kelly



In Memory of Tazz

In Memory of

Tazz

, whose premature death should not have happened.

~Kathy Kelly

The importance of giving your dog monthly heartworm preventative is such a simple part of responsible pet care. In the South, it often means the difference between life and death. To learn more about heartworm disease, click here.
---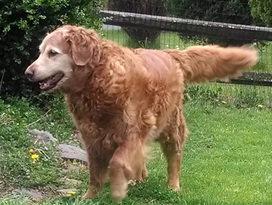 In Memory of Ranger Toncic

On behalf of Ranger Toncic... ~Patty Fredo

In honor of Ranger Toncic... ~Donna and Ron Mayne

In memory of Ranger... ~Susan

In memory of Ranger Toncic ~Kathleen Kelly
---

In memory of Kimba

In memory of Kimba Rhiannon Del Pezzo

~Ellyn Altman, PhD.


In Memory of Sam

In Memory of

Sam

~Kathy Kelly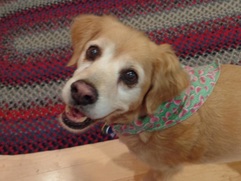 In Memory of Cotton McCarthy

In loving memory of our sweet Cotton, loved and missed forever. Becker and I and your kitties miss your happy smile and waggy tail every day. You are no longer by my side but will be always in my heart...we'll see you at the Rainbow Bridge...
~Mommy Karen


In memory of Cotton McCarthy
~Kathleen Kelly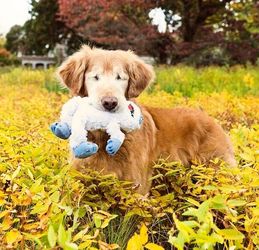 Memphis' Legacy

Please accept this contribution from "Memphis' Legacy," in remembrance of my beloved SGRR rescue Memphis."

~Michelle Hamed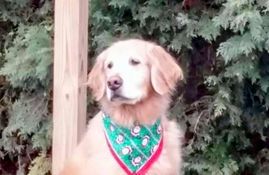 Riley 8/15/16

In loving memory of a truly loyal friend. Riley wasn't a Sunshine golden alumnus, but he assisted us in helping our rescue babies adjust. His job was done and has traveled over the rainbow bridge to early and suddenly. He will be sadly missed with that quirky personality and silliness. He took another piece of our hearts along with our others. Someone said our pups leave so we can have room to save another in need.

~The Dumas family

In Memory of Shorty

In memory of Jake Love

In memory of my beloved Jake.

~Mom

---

"In memory of Jake Love. We will miss you! XOXO"

~Wendy, Paul, Christopher, Ryan


---


"In memory of Jake."

~Donna and Ron


Susan was blessed with Jake 2 years ago. He came to her with no hair and several medical issues. No matter- her love brought him back to health. And his inherent sweetness immediately won over Susan and everyone! Sweet, sweet, special boy running to greet and love everyone! We will miss him. We already miss him so much. We'll see you at the bridge, Jakie!

~Your friends at the dog run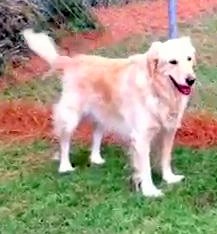 In memory of Max, beloved pal of Martha & Jim Fuchs.

~Maria & Robbie Gwynne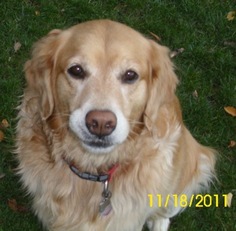 Holley came to us from SGRR in 2007 and immediately became part of our family. Our Golden, 1 1/2 years old at the time, welcomed Holley into our family and they quickly became sisters. Holley loved to chew sticks but mainly loved to be with people. She learned to love the water -- swimming in the ocean and in pools -- and enjoyed walking the neighborhood and the beach. Unfortunately cancer got the best of her. She left us on May 21,2016. She will not be forgotten.

~D'Auria family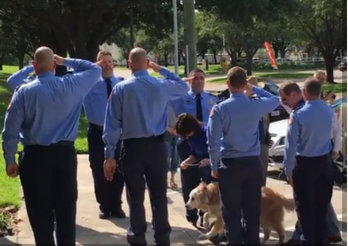 The last known 9/11 search and rescue dog, passed away on 6/6/16. Bretagne (pronounced, "Brittany"), a 16-year-old Golden Retriever, was one of 300+ dogs to search through the rubble for survivors after the attack on the World Trade Center. Back in 2001, Bretagne and her handler, Denise Corliss were new search and rescue graduates when they were deployed to New York shortly after the World Trade Center attacks. The pair joined hundreds of other search and rescue teams from around the world to find survivors at Ground Zero, working 12 hours a day for two weeks straight. Bretagne retired from active duty at age 9, but continued to serve her community, working as a reading assistance dog at an elementary school near her home in Texas.
On Monday, Ms Corliss brought Bretagne to Fairfield Animal Hospital, making the difficult decision to put her down after her dog had stopped eating and experienced kidney failure. Bretagne was met at the hospital by representatives from Texas Task Force 1 and the Cy-Fair Volunteer Fire Department, as well as other agencies, who stood at attention and saluted the K-9 hero as she entered the hospital. Again, they saluted Bretagne as she exited the hospital draped with an American flag and accompanied her in a formal procession to Texas A&M University. Without a doubt, Bretagne was an incredible K-9 hero and will be missed by all. See the touching video from the
Houston Chroncile
of her hero's goodbye.