A Note To Our Approved Applicants

Applicants often ask how long it will take to adopt a dog. Sunshine, like many other rescue groups in the country, is currently in the enviable position of having many more terrific families and individuals approved and waiting to adopt a rescue dog than we have dogs. We wish that each of you could bring a rescue dog into your life as soon as you are approved to adopt. Knowing that is not possible, we ask for your patience and understanding as you await your dog. Our volunteers spend many, many hours evaluating our dogs and working on the right match to help ensure each dog finds a happy and forever home. For some of you, there will be a very short wait for a dog, while others will wait longer than hoped. This is simply a matter of getting the right match and does not reflect negatively on anyone. We are fortunate to have so many kind and giving people waiting to welcome home a dog in need. Thank you for your trust in Sunshine. We are hoping your wait will not be a long one!
---
Be My Valentine
Express your love for your spouse, BFF (human or furry), partner, parents, etc. with a brief Valentine dedication on SGRR's
HAVE A HEART Valentine page
! For just $20, you can proclaim your love and devotion for your human or furry pal for everyone to see! Your support will help us provide medical care and shelter to our rescued dogs while they await their loving forever homes.
Just make your donation via Paypal on
our dedicated Paypal web page
and indicate "HAVE A HEART" in the "message to the seller" space. Be sure to include your pal's name or BRIEF message. You can also send a check to SGRR, PO Box 247, Port Washington, NY 11050, but please do so quickly so we have time to post! Contact Susan at
doggonegold@yahoo.com
with any questions.
---
---
Merlin's Story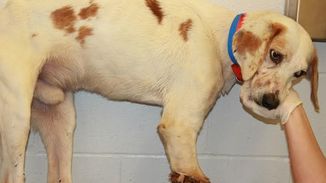 On 2/3/16, we received a group email from a shelter in AL with an urgent request to help a dog who had been hit by a car and was found lying on the side of a remote road. While this boy was not a Golden Retriever, his condition broke our hearts. If someone did not step forward and rescue Merlin, he would have been euthanized. By the time a Good Samaritan spotted this poor boy, it is estimated that two days had passed since his injury. Merlin suffered a compound fracture and the bone was protruding from his leg, and it was already severely infected. Merlin was rushed to our vet the following morning. She estimated Merlin to be about 6-7 years old. Merlin tested positive for heartworms, the result of a neglectful former owner. He was prepared for surgery and his right front leg was amputated. If we could get him through this, we knew one of our wonderful applicants would give him a great life.
But it was not to be. Merlin made it through the surgery and Dr Benefield was bandaging up his wound when his heart simply stopped beating. With the high level of heartworm infestation and the stress of what he had endured over the past few days, it was just too much for his already weakened heart. Many tears were shed as this angel gained his wings and crossed over
The Rainbow Bridge
.
It is so difficult to wrap one's head around the events that transpired. We know that we did everything to help, but we lost him anyway. This surgery was immediately necessary to attempt to save Merlin's life and could not have been postponed until after he completed heartworm treatment. Yet it angers us to think of the humans who failed Merlin in his past – from the previous owner who did not have him on heartworm preventative, to that same former owner who did not see to Merlin's safety, where he became a stray. And then was the callous nincompoop that hit Merlin and left him on the side of the deserted road. Like many good rescues, we at SGRR take in so many dogs who have been damaged by the humans in their former lives. We get to fix what has been broken. Most times we are successful. Nevertheless, it is the dogs we lose that just break our heart and weigh on our souls.
We share Merlin's tale to honor his life, with the hope that his story may lead to saving the lives of other dogs. It is ironic that Merlin did not die from the injuries he sustained, but because of the lack of preventative care. The importance of giving your dog monthly heartworm preventative is such a simple, yet utterly crucial part of responsible pet care. It could mean the difference between life and death. If you know of someone who is negligent about monthly heartworm preventative care, or to learn more about heartworm disease, this link found on our website may be helpful:
http://www.sunshinegoldenrescue.com/heartworm-information.html
---
---
Indoor Winter Activities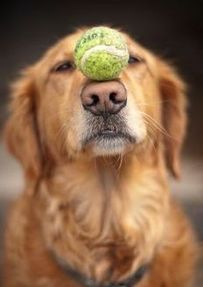 A dog's exercise needs remain consistent year-round. Lack of exercise can cause various issues, including hyperactive greetings, chewing on valuable items, raiding the garbage, and increased anxiety and aggression. If a dog is predisposed to aggression, the increased anxiety from lack of exercise can exacerbate the problem. Like people, dogs get cabin fever of sorts and go stir crazy when kept inside. But when the weather is uninviting, it's easy to slack on your dog's regular exercise routine.
Experiment With Inside Games
- Vary the games you play and regularly rotate toys to keep your dog interested. Tug can be an excellent game for teaching self-control when played with the proper rules. Fetch can be done inside using soft toys. Increase the fetch challenge by tossing the toy up stairs with carpeting or runners to prevent slipping. For dogs that like to chase, attach a stuffed animal to the end of a rope to simulate a predatory chase. More rambunctious or large dogs can be exercised safely in open areas, such as a basement or garage with the car pulled out.
Encourage Scavenging
- Dogs are scavengers by nature, meaning they are programmed to spend many of their waking hours in search of food. Use this to your advantage by getting your dog hunting for his meals with a few inventive practices. Instead of a food bowl, feed your dog kibble out of a food puzzle (a hollow toy with openings for kibble to fall out). For a long-lasting challenge, stuff a hollow toy, like a
Kong
, with canned dog food and freeze. Exercise your dog by tossing a treat piece by piece across the room and telling him to "find it," so he can chase after it and hunt it out with his nose.
Quality Time
- Rather than cooping up your dog all winter, take him on outings with you during the week. A date with your canine can be as easy as taking him to a dog-friendly pet store to choose a chew or toy. Pooch-friendly coffee shops welcome dogs with treats. Give the treat to your canine while he is secured in the backseat of your car with a seat-belt or inside a crate. Drop by your veterinary office for a social visit and have the receptionist give your dog a cookie. Arrange a visit to a friend's front door for a treat, or invite friends to your home to interact with your dog. Consider having a dog walker come exercise your pooch if you can't safely do it yourself. Most dogs can comfortably be walked outside for short periods when the right precautions are made, such as wiping paws off after walks.
Play Dates
- Dog-friendly canines benefit from play dates. Consider arranging play dates with your dog's favorite friends, which can be done right in your backyard or at pet-friendly parks. Even when the weather outside is frightful, dog park loyalists are still braving the cold. Dog parks can give your dog both off-leash exercise and interaction with other canines. Doggy day cares are another way to give your dog interaction while you're away from home or when you just need a break.

Indoor Agility Course
- Never underestimate the power of the homemade agility course. Create obstacles for your dog to navigate, much like he would on an agility course. Use chairs as weave poles for your dog to navigate around. Line other chairs up and toss a blanket over the top to create a makeshift tunnel for your dog to run under. A broomstick fixed over a couple of buckets or a hula hoop held in your hands can serve as a jump. Teach your dog to propel through obstacles using a
hand target
, and reward with plenty of praise and treats. Take short breaks between obstacles to do obedience work, such as
puppy push-ups
. The obedience work will keep your dog listening to you and give him a mini workout. As an added bonus, hand targeting allows for additional exercise by getting your dog moving between people for a reward.
Keep your dog appropriately entertained this winter even when daily walks aren't possible with at least two of the above interactive activities per day, along with several socialization opportunities throughout the week. Fear not, spring is only 2 months away!
*Credits to Vetstreet.com
---
---
Bear is Home!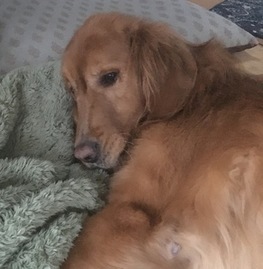 Bear is an incredibly handsome and sweet 7-year old, 102 lb. Golden Retriever who came to Sunshine in need of an expensive ACL repair knee surgery which his family could not afford. We could not refuse to help him.

Update 2/10/15:
Bear is recovering well and even enjoying the snow! He has another vet visit to be sure he is progressing as well as expected and we expect him to be released from his medical hold. Through his recovery, his foster family has helped him reduce weight, play games inside to keep him occupied, and sought training help for his "alpha dog" tendencies. Most importantly, they fell in love with Bear and he loves them right back. They are Foster Failures - YIPPEE!!! - and Bear has found his forever home. We are so grateful for their willingness to take in Bear to get him through an orthopedic rehabilitation, which was not easy. They will continue with behavioral training for Bear, and he is a willing and easy subject because he cares and loves his new family so much.

We at Sunshine are so grateful for the kind messages and financial support Bear has received from his many fans! He is a wonderful Golden and to all of you who stepped up to help this big red boy, we say a heartfelt Thank You!

---
Sponsor a Dog
If you would like to provide for the care of a particular dog's needs, you may sponsor that dog. Please use the Paypal "single donation option" at the bottom of this page or mail a check to: SGRR, PO Box 247 Port Washington, NY 11050. We will then note you as a sponsor on the dog's dedicated bio page. We thank you in advance for your generous support!
---
Through the Eyes of a Dog

"Once someone has had the good fortune to share a true love affair with a
Golden Retriever, one's life and one's outlook are never quite the same again. A warm afterglow remains that lasts a lifetime."
~~ Betty White
---
---
Support SGRR While You Shop

iGive


Click to shop at iGive

Turn Your Online Shopping & Searching
Into Donations For
Sunshine Golden Retriever Rescue


Shop at 1,000+ Top-Notch Online Stores. The iGive mall includes: Amazon.com, Pottery Barn, REI, Staples, Petco, Expedia, Best Buy, QVC and many more. Best of all, up to 26% of your purchase at each store is donated to SGRR when you sign up with the provided link.


---

Amazon Smile

---
Donate to SGRR


There are a number of ways to donate to SGRR. You can make a donation to our general fund or designate a specific use for your donation. Visit our

Support page

for more details about supporting SGRR.
---