A Note To Our Approved Applicants

Applicants often ask how long it will take to adopt a dog. Sunshine, like many other rescue groups in the country, is currently in the enviable position of having many more terrific families and individuals approved and waiting to adopt a rescue dog than we have dogs. We wish that each of you could bring a rescue dog into your life as soon as you are approved to adopt. Knowing that is not possible, we ask for your patience and understanding as you await your dog. Our volunteers spend many, many hours evaluating our dogs and working on the right match to help ensure each dog finds a happy and forever home. For some of you, there will be a very short wait for a dog, while others will wait longer than hoped. This is simply a matter of getting the right match and does not reflect negatively on anyone. We are fortunate to have so many kind and giving people waiting to welcome home a dog in need. Thank you for your trust in Sunshine. We are hoping your wait will not be a long one!
---
SGRR's Featured Dog - Mary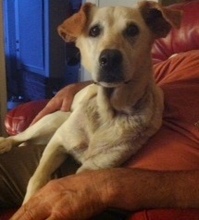 Mary is still waiting for someone to see that she is a gentle, golden-hearted girl. She wants nothing more than attention from her humans and enough food to eat. She is an easy-going dog who will fit into a family with other dogs or would do well as an only dog.
Mary is a good girl on leashed walks and she will tell you she would like a cookie by going over to the cookie cabinet and staring at it. She will warm your heart and bring a smile to your face. Mary will be ready to come north on
May 7
. Please consider her. You can read more about this sweet dog on her
bio page
.
---
---
OH NO! IT HAS HAPPENED AGAIN!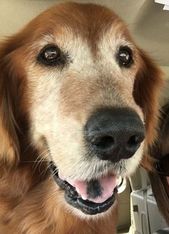 Owen, our handsome, 9-year old "red" Golden has crossed The Bridge before his time. He had so much personality! Everyone who met this amazing dog loved him dearly, within minutes. He loved his toys, rolling on his back holding them up in his paws.
He loved all creatures. He loved life.
Owen came to us through a Louisiana shelter, where he was brought by his former owner because he barked too much. Everyone who knows Goldens knows that leaving them alone outside without their people is torture to them, and so he barked. Worse than that, he never received heartworm preventative and he was filled with heart worms. We needed to get him through heartworm treatment so that he could be adopted by a waiting forever family and receive the attention and love he deserved. But he never had that chance. During the night of April 12 he died from affects of the heartworm treatment.
Owen's premature death should not have happened. Too many dogs die this way, and it is preventable.
Give your dog one monthly pill like Heartgard and you will save your dog from such a sad end. If you cannot afford this
monthly pill, speak to your vet about giving a monthly dose of Ivermectin, which is used to kill heartworms, and is a better choice than no preventative at all.
The importance of giving your dog monthly heartworm preventative is such a simple part of responsible pet care. In the South, it often means the difference between life and death. To learn more about heartworm disease, click here.
---
---
Flower Power!
Spring is here and so is a beautiful selection of flowering seeds and bulbs from our go-to source Flowerpowerfundraising.com! Known for their quality products, Flowerpower will donate 50% of each purchase you make on behalf of Sunshine Golden Retriever Rescue back to SGRR! Choose from cheery sunflowers, lovely lilies, dahlias - even strawberries - and help SGRR care for and treat our dogs in need. Click

here

and start shopping! Your garden and our dogs will thank you!

And, if you would like to spread the word to family and friends, please email Susan at

doggonegold@yahoo.com

. She will include you as an SGRR/Flowerpower team member and you will receive promotional emails from Flowerpower that you can share to help make this campaign even more successful!!
---
Through the Eyes of a Dog
Jackson was adopted from SGRR in 2012, At 15 years of age, he has been a mentor to many of the dogs that his mommy doggy sits for. A few days ago, Jackson experienced a seizure and had to spend a few days at the vet's office. Now back at home, he is taking some time to recuperate.

Coda, 9 month old bulldog pup, sensed Jackson's lethargy and was upset that his mentor didn't want to romp. True to his beautiful golden spirit, Jackson took to comforting Coda and letting him know everything will be okay.
---
Shaving Your Dog's Coat - Should You or Shouldn't You...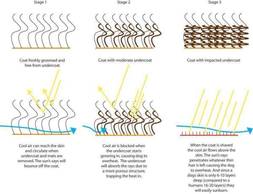 There are several different types of textures on dog's fur, but in a general breakdown there are two coat types; single coated and double coated. A single coat means that there is only a top (or over) coat that grows all over the body with no different undercoat. Breeds such as Shih Tzus, Poodles, Bichons, for example, are ones with a single coat. These breeds can be shaven generally with the only thing potentially occurring to the coat is over time it may become softer or it may have a slight colour change. Even with only a single coat you want to be careful on when you shave them, especially if you shave them right down, as this, although may appear to feel cooler, leaves the dog exposed to the possibility of sunburn. A dog with a coat shaved right down in the height of summer should not spend any length of time in direct sunlight. With the simple fact that there is only one coat the hair grows back normally and even after a shaving.

A double coat means there is both a top (or over) coat made of tougher guard hairs and a bottom or (under) coat that is thick and soft. Breeds such as Pomeranians, Shetland Sheepdogs, Siberian Huskies, Samoyeds, are examples of double coated dogs. With a double coated dog they need to be groomed by brushing throughout the year but most heavily done in the spring when a major shedding period occurs. As the weather warms up the thick undercoat starts to do a complete shed, it detaches from the body and is often described as molting. When you look at a dog in shed, they have "tufts" of fur that is soft and dense peaking through the longer guard hairs of the topcoat, this is called molting.

All this dense undercoat needs to be brushed out of the dog or Stage 3 from the top image above occurs. The coat becomes impacted and matted, preventing air from being able to move between the dog's topcoat and their skin. Once all this undercoat is removed the air can circulate between and through the hairs of the topcoat keeping the dog cool, while the topcoat keeps the skin protected from the sun. This topcoat can also protect the dog's skin from fly and mosquito bites.
---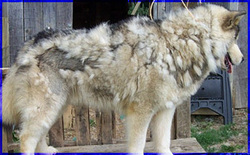 The question still remains then, why not shave them and just keep them out of the sun? For one, they may not actually be cool even if they are out of the sun, the topcoat can help to keep the heat off the skin itself and unlike people dogs do not sweat through their skin. Dogs sweat by panting and in all but northern breeds, through the pads of the feet. Shaving them actually removes some of their natural ability to stay cool. Another reason is that when the hair does begin to grow back it tends to do strange things. For some, it may mean having patches that don't grow at all, or that don't grow both types of coat layers (top and under), older dogs often have issues with proper regrowth and then for others (which happens most often) the undercoat grows in faster than the topcoat (since the topcoat isn't meant to shed extensively it grows extremely slowly) so now that protective topcoat is matted into the undercoat. Dogs like this generally appear as though they have thyroid issues. The hair looks fuzzy and varies in length all over the body. This doesn't mean the coat will forever stay this way. Most of the time with regular brushing and the next shed cycle the topcoat will get longer while the undercoat sheds away, eventually leaving the coat the way it once was with long topcoat guard hairs and a thick shorter undercoat. One other thing to note about those topcoat guard hairs – they actually prevent the dog from getting wet. Due to the coarseness of the guard hairs water rolls off of this topcoat keeping the undercoat dry, which in the winter is important to keeping the dog warm and dry.
All of this being said there may be times where it is necessary to shave a double coated dog. In surgical/medical situations the coat must be shaved or if the undercoat has become so matted it can not be combed out, shaving is the only solution. Once the coat begins to grow in, keeping them brushed and free of matting will prevent the need to shave them in the future.
Bottom line?
The ideal situation: Keep the hair brushed, remove all the undercoat and allow the dog to remain with their natural ability to keep themselves cool and protected from the sun and some bug bites in the summer and warm and dry in the winter.
Article written by:

Jennifer Oldfield

(albertnorthvetclinic.com)
---
---
Support SGRR While You Shop
iGive


Click to shop at iGive

Turn Your Online Shopping & Searching
Into Donations For
Sunshine Golden Retriever Rescue


Shop at 1,000+ Top-Notch Online Stores. The iGive mall includes: Amazon.com, Pottery Barn, REI, Staples, Petco, Expedia, Best Buy, QVC and many more. Best of all, up to 26% of your purchase at each store is donated to SGRR when you sign up with the provided link.


---

Amazon Smile
---
Donate to SGRR

There are a number of ways to donate to SGRR. You can make a donation to our general fund or designate a specific use for your donation. Visit our

Support page

for more details about supporting SGRR.

Sponsor a Dog

If you would like to provide for the care of a particular dog's needs, you may sponsor that dog. Please use the Paypal "single donation option" at the bottom of this page or mail a check to: SGRR, PO Box 247 Port Washington, NY 11050. We will then note you as a sponsor on the dog's dedicated bio page.

We thank you in advance for your generous support!

---
---