---
A Note To Our Approved Applicants

Applicants often ask how long it will take to adopt a dog. Sunshine, like many other rescue groups in the country, is currently in the enviable position of having many more terrific families and individuals approved and waiting to adopt a rescue dog than we have dogs. We wish that each of you could bring a rescue dog into your life as soon as you are approved to adopt. Knowing that is not possible, we ask for your patience and understanding as you await your dog. Our volunteers spend many, many hours evaluating our dogs and working on the right match to help ensure each dog finds a happy and forever home. For some of you, there will be a very short wait for a dog, while others will wait longer than hoped. This is simply a matter of getting the right match and does not reflect negatively on anyone. We are fortunate to have so many kind and giving people waiting to welcome home a dog in need. Thank you for your trust in Sunshine. We are hoping your wait will not be a long one!
---
SGRR's Featured Dog
I know what you are thinking... that I am not such pretty dog. I can assure you that my present condition was not my fault. I was sorely neglected by my previous owners who cared very little for me. But those days are behind me now and I am with the kind folks at SGGR and in a loving foster home. I am being treated for a skin infection, heartworms, and being given lots of good food too! You can bet that in no time, I will be back to my stunning self again!

I hope you can see past my somewhat embarrassing current appearance and envision the gorgeous girl that I truly am. If you will give me a chance, I promise to love you unconditionally, to be devoted, and to always be at your side. You can read more about me on my dedicate bio page. I'm sure you'll see that I am beautiful on the inside!
---
SGRR Calendar

We are now accepting entries for the 2017 SGRR calendar – and YOUR dog could not only be featured in the calendar, but on the cover!
The entry fee is $25. Submit 2 pictures per entry fee, and one of them is assured to be included in the calendar. (Your entry fee also includes one calendar.) Send us your best, highest resolution shots (please no blurry photos, or low resolution cell phone pictures) of your furkids - and get creative – we love to see seasonal shots, holiday shots, action shots, etc.
If you would like your pup to be considered for the cover, please submit a few short paragraphs on why (no more than 500 words). The SGRR Calendar Committee will review all of the entries and choose one to be featured as our Cover Dog and corresponding inside cover story.
The "fine print": The Cover Dog position only goes to a SGRR rescue dog, so please indicate in your email submission whether or not your dog/dogs you submit are SGRR rescues. Any dog can be featured inside the calendar regardless of being an SGRR dog or not. Please make sure you include your name and your dog(s)'s name(s) in your email – if there are multiple dogs in a picture, please try and be as specific as you can be. Photos should only contain dogs – no humans, please. We will email you a confirmation when we receive your photos, so if you don't get a confirmation please follow up - we want to make sure that everyone's submissions make it into the calendar!
Please use the paypal link on the website -
http://www.sunshinegoldenrescue.com/paypal.html
to pay for your entries (make sure you note that the donation is for the calendar). Email your entries (don't forget to include a few paragraphs about your dog if you would like him/her to be considered for the cover) along with your Paypal receipt to
sgrrcalendar@gmail.com
.
The deadline for submissions is

October 15, 2016

.
Thank you, as always, for your past and continued support. We could not do what we do without our amazing group of volunteers, fosters and adoptive families.
---
Ticks and Dogs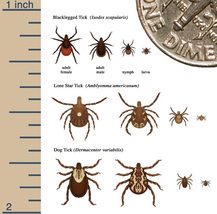 The Blacklegged Tick, also called Deer Tick, is abundant throughout many areas of the Northeastern US. They can carry organisms that cause Lyme Disease, Babesiosis, and Anaplasmosis, all of which are on the increase.
Nymph Stage Deer Ticks
Are active from early May through early August
Are about the size of a poppy seed
Have a bite that is difficult to feel
Pose the highest risk of transmitting a tick-borne disease, due to their small size. (About 1 in 4 nymph stage Deer Ticks can cause Lyme Disease.)
Adult Stage Deer Ticks
Are active from September through May
Are about the size of a sesame seed (About 1 in 2 adult stage Deer Ticks can cause Lyme Disease)
TICK FACTS:
Ticks can be active even in winter, when temperatures are above freezing.
Tick habitat is in shady, damp, brushy, wooded areas including shrubs and gardens.
Nymph stage ticks are found mostly at ground level in the leaf litter.
Adult stage ticks can be found up to a couple of feet off the ground on vegetation.
TICK BITE PREVENTION:
Do a tick check after coming inside and tumble-dry clothes for 20 minutes.
Wearing light-colored clothing makes it easier to see ticks.
Products containing DEET may be used on skin.
Products containing Permethrin may be used on clothing and shoes, NOT skin.
TICK REMOVAL: REMOVE TICK IMMEDIATELY AND CORRECTLY
Using pointy tweezers, grasp tick by the head and pull straight up. Avoid twisting.
After removing tick, apply antiseptic to bite area.
Note date when tick was removed.
Tick can be saved for identification and possible pathogen testing at
www.TickReport.com
Resources:
Centers for Disease Control: www.cdc.gov
University of Rhode Island:
www.tickencounter.org
Laboratory of Medical Zoology:
www.tickdiseases.org
MA Department of Public Health:
www.mass.gov/dph
Cape Cod Cooperative Extension:
www.capecodextension.org
Barnstable County Department of Health and Environment:
www.barnstablecountyhealth.org
---
---
Support SGRR While You Shop
iGive


Click to shop at iGive

Turn Your Online Shopping & Searching
Into Donations For
Sunshine Golden Retriever Rescue


Shop at 1,000+ Top-Notch Online Stores. The iGive mall includes: Amazon.com, Pottery Barn, REI, Staples, Petco, Expedia, Best Buy, QVC and many more. Best of all, up to 26% of your purchase at each store is donated to SGRR when you sign up with the provided link.


---

Amazon Smile
---
Donate to SGRR

There are a number of ways to donate to SGRR. You can make a donation to our general fund or designate a specific use for your donation. Visit our

Support page

for more details about supporting SGRR.

Sponsor a Dog

If you would like to provide for the care of a particular dog's needs, you may sponsor that dog. Please use the Paypal "single donation option" at the bottom of this page or mail a check to: SGRR, PO Box 247 Port Washington, NY 11050. We will then note you as a sponsor on the dog's dedicated bio page.

We thank you in advance for your generous support!

---
---