Happy Tails - 2017

Dantea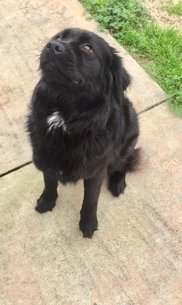 Happily Adopted!
Just wanted to let you know that Dantea is doing very well. She's not thrilled with all the snow that we got, but Joe used the snowblower to make paths throughout our back yard so we can walk her around without her getting buried!! It's amazing to me how well she is adjusting and for a young dog she has good house manners. She must have been someone's pet and she's so sweet that I can't understand why they didn't look for her! She's a smart girl though and she's already learning.
~Susan & Joe


Marge

Happily Adopted!
SHE HAS ARRIVED! A HUGE THANK YOU to everyone for making this dream come true. The cold temps and the howling wind did not deter our excitement as we waited for her to come down the ramp! Dawn was a great support and we appreciate her help getting Marge off the truck and into our lives! Marge is having fun exploring our home, ate and drank well, and is in a very chipper mood! Our cats have spied Marge, but are keeping their distance, of course! One step at a time. Our hearts are so full of Love.
THANK YOU, Sunshine Rescue!
~Liz & James


Shelley

Happily Adopted!
Had a good first night. She is adorable. She slept in the sunroom (which appears to be her safe space) but found me at 5:30 to go to the bathroom. I am going to give her a little bath today, hopefully being clean will make her more comfortable. I have a well reviewed oatmeal shampoo at the ready! She's a sweetie and I'm very happy. I'll keep you posted. ~Shannon
Murphy


Happily Adopted!
Murphy is doing great! Yes, you were right, he is a very very good dog and we are extremely thankful! He walked in the house and immediately made himself at home. It was a long trip but he is finally in his forever home. You can definitely let everyone know he has found his forever home, he's not going anywhere! ~Tim & Sharon


Ebenezer



Happily Adopted!
He is awesome!!! A huge love. Busy when we're busy quiet when we're quiet.
He's a great guy. Loves the snow.
~Marianne, Richard, & family


Avery
Happily Adopted!
She is adjusting beautifully into our home. After the first 24 hours, she has relaxed, is far less needy in terms of constant human contact and slept through the night on her bed on the floor in our room. She is very loving and gentle.
~Julie & Dan


Potter


Happily Adopted!

He is such a good boy. He sleeps all night. I think he is happy.

Working on the training now.

~Judy & Keith
Myia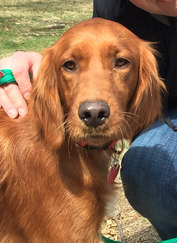 Happily Adopted!
She is just wonderful! Such a lady in the house and so full of joy running in the back yard. She loves the backyard! She is one of the sweetest dogs that I have ever met. I think she must have had some leash training at some point. This morning, most of her walk was walking next to me on a loose leash. I just gently reminded her of how to walk. I say gently because she is so sensitive and responsive to quiet requests.

I am amazed at how quickly she has adjusted to a new setting and made herself comfortable. She sleeps on her back a lot! She follows me all over the house, sits with me on the sofa, and sleeps with me at night. She loves to be touched. I just love her and want to thank Sunshine for bringing us together. ~Taimi




Nikki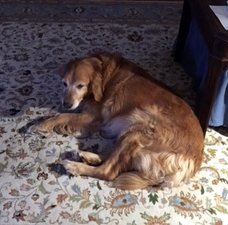 Happily Adopted!
Nikki is settling in...likes her bed and loves getting lots of pats. She likes going around the yard and we have done some walks around the neighborhood. She definitely enjoys meeting people and other dogs, which is great. We thinks she is just so funny and sweet. We are smitten!!
~Martha & Dave
Feb 7, 2017
There is sad news about our senior Golden

Nikki

, who was just adopted on February 5.

Nikki

lost her appetite and became lethargic within days of arriving at her home. An ultrasound revealed cancer in several organs including her spleen and liver.

Nikki

's quality of life was declining quickly and

Nikki

crossed the Bridge on Feb. 7th. Heartbreaking... Her family waited two months for

Nikki

to complete her heartworm treatment, before she could be adopted.

Nikki

was fortunate to have known a loving home but she deserved longer.

Sweet

Nikki

is gone to be with all the other good dogs. We took her to the vet's late this afternoon to say goodbye. Thanks to all the SGRR rescue folks who helped

Nikki

get to us. We so looked forward to her coming, were so happy to pick her up in CT and bring her home. Although her time with us was so short, we loved her as the good girl she was. What a sweet, sweet dog… ~Martha & Dave
McGee


Happily Adopted!McGee is doing great! He seems to be getting along well with the whole gang. We are taking him to our vet

Thursday

afternoon for a checkup. I think this is going to be a good fit for us all. Thank you for allowing McGee into our home! :)

~Lisa & Ron

Stacey


Happily Adopted!
I don't think I've ever seen an animal adapt and settle in the way this pup has. She's been through so much in such a short time and still doesn't have a fear in the world. She definitely likes to be around people and get her lovin'. Got another one hiding up your sleeve? And the little lady's name is now Lexi and she is at her forever home. ~Pattie

Murphy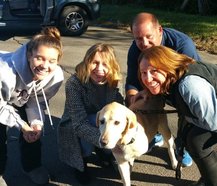 Happily Adopted!
Senior Murphy has been adopted by his foster family, the Fedors! Murphy joins his Golden brother, Cooper, and 2 human sisters, along with his parents. Murphy, who has heart damage from heartworms, received a good report at his cardiologist appointment this past weekend and is doing well with his current medicines. That and being a tripod do not stop Murphy from being a "Marley" kind of Yellow Lab! This boy loves life and has no hesitation about being mischievous and fun. He bounds up stairs, loves water, and other dogs. He is not above counter surfing, especially if coconut cake is involved. His family adores him!