Forever Fosters

SGRR often goes one step further than basic rescue, taking in dogs that might be thought of as "less adoptable" because of the physical conditions in which they are found. In many cases, these dogs can be rehabilitated and permanent homes can be found for them. In rare situations some of our dogs are unable to be available for adoption. They could be seniors or a dog that might have a medical condition that prohibits them from being adopted. There are special human heroes who will provide dogs like this with a forever foster home, giving them all the love and attention they could ever hope for.
SGRR pays for ongoing medical care for these special dogs. If one of our "Forever Foster" dogs touches your heart and you would like make a donation to the dog's medical care, your donation would be very appreciated and will be used only for that dog's care. Donations can be made via the
Paypal link on SGRR's home
page or by check made payable to SGRR, PO Box 1035, Point Clear, AL 36564.
As always, thank you for any help you can give.
Callie - A Sunshine Forever Foster Sweetheart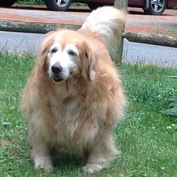 Callie is a Sunshine Golden Girl who came to Sunshine in AL several years ago when she was 7 years old. She was adopted by a family in New England who truly loved her, but when her human Mom suddenly passed away, her family could not keep her and Sunshine was called to take her back. When Sunshine's Foster Mary went to pick up Callie, now 11 years old, she was shocked to see Callie's condition. Callie had never received the daily thyroid medication she needed, had not been kept updated on her vaccinations, and had arthritis in all her joints. She weighed a whopping 132 lbs. and could barely get up to walk. Callie also tested positive for Lyme Disease.

Poor Callie had a long road ahead of her.

Under the guidance of her kind Veterinarian Dr. Barb Hopey and her staff, Callie began treatment and gradually started feeling much, much better. But as luck would have it, Callie could not catch a break. In addition to sporadic problems like ear infections or lumps to be looked at, she developed a hot-spot on her face, very close to her eye. It proved to be malignant and a Board Certified Surgeon was needed to remove it because of the risky location. After three follow-up visits, Callie is doing well, with no recurrence. She has another recheck in January and we are hoping for a good report — she deserves it!!

Callie is as sweet as can be imagined. She loves attention, loves the resident cats at her foster home, and loves her Golden brother Jackson, who is a Sunshine boy, adopted in 2012. Little by little, she gained mobility and started to walk more than a few steps without pain. She began exploring her back yard. She claimed the front step as her favorite spot for sitting in the sun watching the world go by and barking at anything that might disturb her world. She welcomes all dog visitors to her home and loves sleeping late with her Foster Daddy.
In early Fall, Callie received a haircut and was quite proud of her new hair do! Now down to 98 lbs, she continues to feel better and enjoy each day. Callie knows she is loved. While she is technically a "
Forever Foster,
" to Callie she is "Home." Fosters Mary and Frank have undoubtedly earned angel wings. Callie has required lots of daily care, medicine, and many trips to vet clinics to help her through the past six months. The care that dogs like Callie receive can be expensive. To those of you who contribute to Sunshine to help our dogs, we cannot thank you enough. Callie is one of those you have helped. She will remain a Forever Foster and will have all that she needs because of your generosity. We could not do this without you, or without the wonderful fosters like Mary and Frank who devote their time and their hearts to these precious souls. As we wind down 2015 and think about the year ahead, we hope you will continue to keep our dogs in your thoughts to help them along their journeys to a better life.
---
Rosa's Rescue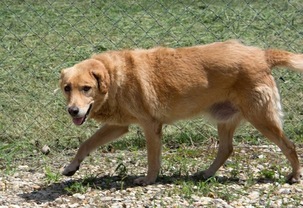 9/1/2015
Sometimes a dog gets to us just in time to break our hearts. Rosa was a 7-year old stray in a hot Louisiana shelter that had no air conditioning. We took her into Sunshine as soon as we had space in our rescue and straight she went to the vet's office. We had been told she had a scratch on her ear - but it was not a scratch, it was a cancerous growth. We had pre-op X-rays done to prepare for her surgery only to be told that cancer had already spread to her lungs. We were then told that Rosa has about three months left in this world before she crosses the Bridge. We hope it will be longer.

Rosa is very special. If we could have found her a forever adoptive home, her adopter would be getting a beautiful soul of a dog. She is gentle, affectionate and easy-going. She is pretty with doe-like brown eyes that look straight into you with trust. Rosa loves other dogs and people and she would have brought much happiness as a terrific family pet.

Although that can never be, Rosa has still found happiness. She is staying for her remaining time with a kind and loving foster. Rosa will have her foster mom's company most of the day, along with kitty friends and two resident dogs. She has toys and a fenced yard and car rides. She has lots of treats and great dinners! Rosa doesn't know her time is short and she is enjoying every day, being spoiled and showered with attention.

We are posting Rosa's story so that you will know about her, along with the other dogs in Sunshine who will find their adoptive homes. Thank you for reading this, and for caring about rescue dogs in need.
On
November 20th
, we lost our
forever foster
girl, Rosa. She has crossed The Bridge and is running free and without pain. Foster parents Cheryl and Paul, along with resident dog Mae, gave Rosa a wonderful three months filled with love. During that time Rosa was a Sunshine ambassador, helping other foster dogs who stayed with Cheryl. Rosa was truly home and, although her time there was short, she was happy and knew what it felt like to be a much-loved dog.
Sunshine is so grateful to Cheryl and Paul, and to our foster families who give so much of themselves to help homeless dogs like Rosa. To those of you in Sunshine's family who sent in donations toward Rosa's care—you all played a part in Rosa's happy final months, and we thank you. We will never forget you, Rosa!
---
Mellow

1/30/15: Sadly, we said goodbye to sweet and gentle Mellow. Losing "Mel" was especially tragic because he should not have lost his life. If whoever owned this beautiful boy before he became a rescue dog had given him one Heartgard pill each month, he would not have gotten heart worms. Heartworms did so much damage to his heart, he could not recover from the heartworm treatment that was meant to save his life. Mel had a future. He had a wonderful family waiting for him, sending him gifts and food, and loving him from afar. When we knew for sure he would not survive for long, he had a loving home with Fosters Cheryl and Paul, who made every day special for him. They gave Mel more love in a few weeks than many dogs know in a lifetime. Mel can now chase the squirrels he loved to watch, running with abandon, free and happy, knowing he was very much loved and will never be forgotten.

If you are reading this, please always remember to get your dog Heartworm tested and give monthly Heartguard pills. Please spread the word to those who don't know or seem to care. And please remember Mel.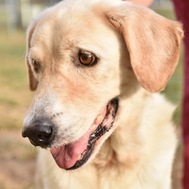 1/10/2015
Mellow's adorable face, stole many hearts. So many people fell in love with this special boy and submitted applications to adopt him. While we could only match one approved applicant with Mellow, many others have adopted other dogs through SGRR and they thank Mellow for paying it forward.
Sadly, it has been determined that the heartworms Mellow was infected with did much damage to his heart. He will be staying with his foster family in the South as their forever foster boy. Please, in Mellow's honor, always remember to give your dog heartworm preventative as directed by your vet. A simple, inexpensive, monthly pill can be the difference between life and death.
---
Amber, Sr

Amber is "gone" but never forgotten.




Such a dear dog who tried so hard for the nearly 8 months she was here. Her so tight muscles finally relaxed, her breathing was finally gentle and she relaxed under our caresses.




I miss her, her eagerness, her spunky "I can almost do it" attitude.


Rest easy, sweet girl. Run free at the Bridge.



5/2015
Sweet Amber traveled with her former family from Washington State to Vermont, where they moved into a 3rd floor apartment. Amber was unable to manage the three flights of stairs, so her heartbroken family called Sunshine to help their sweet girl find a home where she can have easy access to a yard. This gentle, 9-year old Golden Retriever mix had been waiting for a quiet home with a fenced yard and few stairs. As Amber's health and mobility declined, her foster mom agreed that it was best for Amber to live out her days right where she was. As we know, getting older isn't easy, but this girl lives in the moment, always wearing an ear-to-ear smile on her pretty face. She is special, easy to live with, and easy to love. Amber loves people young and old and she loves to lay by her foster mom's feet! Ambie will know nothing but love for the rest of her days and we are forever grateful to her foster mom, Heike!
Update 11/2014 -
Ambie has yet another angel! When Foster Mom Heike's work hours increased and the back stairs became a concern for Amber with winter drawing near, another long-time SGRR volunteer stepped forward and said, "Perhaps she should live with me!" Heike and Bobbi worked together to determine if it would be a good move. They
Skypped
Amber as well as Bobbi's home and then spent a weekend together to be sure that Amber would acclimate. And it was perfect! Amber has no stairs to negotiate now. She adores resident cat, Babycat, and she follows resident dog, LULU, around wherever she goes. After a few days Amber has settled in like she has always lived there and is very content.
The kindness of Heike and Bobbi is appreciated so much and cannot be overstated. And, a HUGE thank you goes out to all who have contributed to Amber's care. (Donations are always welcome as she is a
Forever Foster
and Sunshine pays for her medical needs.)
Don't you love the photo of Amber enjoying a warm Fall day in the sunshine!
---
Loba - a Cinderella Story

Loba came to SGRR as one of the most feral, unsocialized dogs we ever rescued. She had lived on the streets — probably had been born there. She had a litter of puppies out there alone, then grieved when she lost them all. She was sad, frightened, unsocialized, and she was not a beautiful dog. With not much going for her, she was then diagnosed with lymphoma. Now unadoptable, she became a Sunshine "Forever Foster" dog. In the background from the very beginning was a true rescue angel named Pat. She is the person who first alerted our rescue to Loba and who was a safety net for Loba if ever needed. When that day came, Pat, along with Pat's two other dogs and two kitties, welcomed Loba into their home and into their huge hearts. Loba's life turned around completely! She blossomed; learning to walk on a leash with her dog friends, cuddling with her cats, playing, sleeping on a soft bed, and learning how to be a treasured dog. Loba's inner beauty shined through and she most definitely knew she was loved.

On 5/11/15, the side effects of lymphoma took their toll, and our vet went to Pat's home to help Loba across The Bridge. We are all sad to say goodbye to Loba, but she crossed the Bridge having known much happiness and love. We are grateful beyond words to her foster mom, Pat, who saw Loba's sensitive inner spirit and gave Loba a forever home filled with all good things. Run free and happy across the Bridge, sweet Loba! Until we meet again...!
Loba's Rescue & Rehabilitation

After being a feral dog and out on her own for quite some time, Loba has settled into her foster home and is truly loving life! From a girl who would shy away from any contact with humans, to a girl who just soaks up affection, sleeps on the bed, and drinks lattes! This girl LOVES belly rubs and is so relaxed in a home environment. She gets along nicely with her canine foster siblings and is a true joy to be around. "
Oh, life is good!
" says Loba!!!!
Her foster mom, Pat, has shown Loba nothing but kindness even before she really even knew this dog. Pat is a teacher and would often see Loba hanging around the playground where she teaches. She would feed Loba, give her water, and do her best to show her that humans are good. One day, Pat saw that Loba was in distress and panting heavily. She called animal control to come to help this girl and she wound up giving birth to a litter of puppies. When Loba went to the shelter and SGRR was called to "rescue" Loba, Pat told our volunteer, "give me a call if you need help with Loba," never realizing what a role she would come to play in Loba's life.
In early August, two lumps were found on Loba's leg which were removed and biopsied. Sadly, the growths have been identified as Cutaneous Lymphoma. While the long-term prognosis for cutaneous lymphoma is poor, Loba does not know she has this disease. She is a happy and content dog, living
in
a home, possibly for the first time in her life. Many people feel they cannot foster a dog because they don't think they can take care of the dog, love it, and then give it up. But Loba's foster Mom is the epitome of selflessness and she is truly a "rescue angel." Pat has agreed to be Loba's permanent foster mom and Loba will live out her days with her mommy, 2 canine siblings, and 2 kitties pals. And because giving TLC is Pat's specialty, she will continue to give Loba all the loving she could ever wish for.
SGRR will continue to care for Loba and make this time the BEST moments of her life!! If you would like to help with her medical expenses, donations can be made via the
Paypal link on SGRR's home
page or by check made payable to SGRR, PO Box 1035, Point Clear, AL 36564. Questions about donations for Loba can be directed to Susan @
doggonegold@yahoo.com
.
8/2014
---
Truman

Told by his forever mom...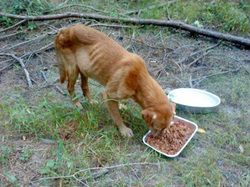 Truman came into rescue in 2011. He had been living with a pack of dogs. Local people had been putting out food to try to help the dogs and eventually catch them. Truman's savior saw him one day after the pack had disappeared for a long time. He was in bad shape so she made it a point to catch him before the pack left again. She was successful with the help of the animal control officer. At the shelter, he got in the back of the cage and would not come out. A rescue volunteer managed to pull him out and get him to the vet. He was a pile of bones covered with fur. His teeth were worn down and his ears were scarred and were missing pieces
from living the hard life.

His age was guessed at 11, he had not been neutered, he was malnourished, and had heartworms. He came to us to foster and put on some weight. He gained weight and went back to the vet for treatment. I left to go on a two week trip and he was scheduled to come back to us when I returned. While I was away, I received a call telling me that he had cancer and was given six months to live, and that he would not be neutered or treated for heartworms. This made him un-adoptable and he was going to be put down. The rescue offered to keep him at the vet's office until I returned so we could be with him. In the short time he was with us we saw his "inner dog" coming out. We decided to bring him back to our home and provide him with hospice care "until"....

The six months turned into two and half years and Truman blossomed into a big, ole, beautiful lab/golden mix of a boy. He had one of the biggest personalities of any dog we have had and quirks too. Wherever we put down his food bowl, it was not acceptable. After months if not years of scourging for food he would always pick up his metal food bowl and carry it to another room, spilling food all the way! But always going back to clean it up! When he first did it a few times, I thought I was losing my mind. I knew I had put that bowl in the kitchen, but I would find it in the family or Florida room.

| | |
| --- | --- |
| Once he knew he was in his "final" home he began to enjoy life. He would take up a sofa, spread out on his back, all fours in the air, his "junk" showing and drift off into puppy dreams. (This was his favorite position!) At night he trained us to provide him and his canine sister, Mae, with a bedtime snack. And if we were late he would get up on the couch and sit staring in our face until his bedtime snack was provided. If we ignored that process, he would give a single "bark (talking)" and give us the "look" until the treat was provided. It was an incredibly funny and loving thing to experience every night and just so endearing. | |
I am sure he and our dog, Mae, had a romance going on as they were constantly licking each others faces! When we would have company, all the dog people would end up in the Florida room where Truman and Mae were "holding court." They would sit there and soak up all the attention and belly rubs.

We lost Truman February 2014. He passed from kidney failure. I like to say that I hope he enjoyed his life with us as much as we enjoyed our life with him. I hope anyone reading this and searching for their new best friend will not overlook the senior dog or a dog who has special needs. They can be such wonderful companions and you will be happy to make them a part of your life!"