Courtesy Listings...

Rescues helping Rescues...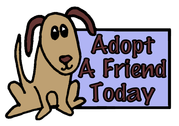 "Courtesy Posted" dogs are listed on our website to help the compassionate people who have rescued or owned these dogs find homes for them. Courtesy dogs are not affiliated with SGRR and are available to be adopted privately via the information provided in their bio.



---
Heather

Heather
, a stunning Shepherd/Chow mix, was found as a stray and brought to the Cumberland County shelter in NJ and, surprisingly, went unclaimed. She is a sweetheart of a girl who just loves people and would love to have a family to call her own. She can be a bit unsure of people at first, but she quickly warms up. She is very well mannered and LOVES belly rubs! She has plush, golden-colored fur with a contrasting designer-style black headband on the top of her head and on her ears. Oh, and look at that big, bushy plume of a tail! Just gorgeous!
Heather is dog selective, but with the right dog and a proper greeting, she can be okay. While at the shelter, she had several meet and greets with other dogs. She was introduced to a male pit-mix and she was fine with him. The shelter staff also tested her with cats and she wasn't sure what to make of them at first. Mr. Kitty got in a good swipe and she quickly gave him a wide berth. So with proper supervision and introductions, she may be able to cohabitate with cats as well. Heather is up-to-date on her shots and will be spayed. Heather rides nicely in the car and will typically lay down and enjoy the ride. She is decent on the leash, enjoys taking walks, is house-broken, and trustworthy in the home.
Heather is about 3 years old and weighs around 60 lbs. She is up-to-date on her shots and will be spayed prior to adoption.
For more information about German Shepherd Rescue of New Jersey's adoption policies and to access their online application, please read and review their Adoption Process. ​
Heather is a courtesy post and is not a SGRR dog.
---
Gabriella

Two-year-old Gabriella is a beautiful, red, purebred Golden Retriever who had a rough beginning to her life. She came from a suspected abusive home, where her former owners were threatening to euthanize her due to behavioral matters. Rather than addressing the unwanted behaviors and working with a trainer, the former owners opted to heavily sedate her. As the doses of medication wore off, Gabby would emerge from a semi-comatose condition in a defensive state of mind, perpetuating her reactive behavior. Hearing of her plight, a Good Samaritan stepped in and Gabby was given sanctuary at our rescue. Gabriella has been with a skilled training and rescue group in east Hartford, CT where they have worked on behavioral correction. She has been off the sedative since she arrived there and her trainers report that her eyes are so much softer and more expressive. She has improved in leaps and bounds and a new Gabriella has emerged!
About a month ago, Gabriella and a set of "golden rules" went home with approved applicants, but this match was not found to be compatible and Gabby is back with our rescue. Upon speaking with her lead trainer today, he remarked about what an absolutely wonderful and smart dog she is. As we spoke, she sat with her head resting on his thigh, soaking up his pets of affection. He shared that if he did not already have a pack of ten dogs, he would adopt her in a heartbeat and said he is in no rush to see her off until we find the exact right home for Gabriella. :-) He shared that his training staff call Gabriella his "24" because he gabs about her 24/7 and even takes her riding with him in his convertible.
If you are an
experienced dog person with strong pack leadership skills
, Gabriella just may be your next best buddy. PLR is seeking an adopter in the East Hartford area who can take advantage of the extended training offered by their group. Here, the potential pet parent can learn the training techniques used and will be able to start to bond with Gabby prior to going "home" and Gabs may get to go home for the weekends. A resident dog can even be brought along for a meet & greet. Whoever adopts this emerging butterfly is going to be gifted with a very best
24/7
friend! If you are interested in learning more about Gabriella, please contact
Pack Leader Rescue
for details.
Gabriella is a courtesy post and is not a SGRR dog.
---
Hallie

Meet

Hallie

!
Hallie is a sweet, lovable senior lab mix, around 8-9 years old. She's a little girl, around 55 lbs. She needs a securely fenced yard (otherwise apt to go off exploring on her own) and an adopter who won't need to leave her alone for long stretches of time - she thrives on human affection. She would prefer to be an only dog because she likes her humans all to herself.. She is super lovable, great with kids (but no small toddlers, please), and loves walks and car rides! Cats are an unknown - she has not been tested with them. Hallie is being fostered in southeastern MA.
If you are interested in adopting
Hallie
, please apply with Southern Roots Rescue - ask for me,
Hallie
!
http://southernrootsrescue.org/
Hallie is not a SGRR dog - questions can be directed to Sue @
agksueclarke@gmail.com.