Courtesy Listings...

Rescues helping Rescues...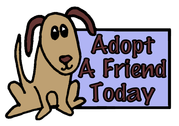 "Courtesy Posted" dogs are listed on our website to help the compassionate people who have rescued or owned these dogs find homes for them. Courtesy dogs are not affiliated with SGRR and are available to be adopted privately via the information provided in their bio.



---
Lucky

My name is Lucky and I am a 5 1/2 year old Golden mix (likely Irish Setter). I am quite handsome and I do have one heck of a personality. There are a few things you need to know about me:
~I love to swim! I live for it. Apparently swimming across the lake is frowned upon because my foster mom had to jump in the water after me, but I also love a good baby pool!
~I love Kongs. I call them my wubbies.
~I am good with other dogs and older kids (I may knock over the little ones!)
~I think cats are WAY too much fun to chase, so the kitties would be much happier without me!
~I am house trained, lovable and can't wait to find my forever home.
Love, Lucky
Lucky is available through our friends at Adopt a Golden Knoxville and he is located in New England. If you are interested in Lucky, please apply at
adoptagoldenknoxville.org
or address any questions to
agksueclarke@gmail.com
Lucky is a courtesy post and is not a SGRR dog.
---
Heather

Heather
, a stunning Shepherd/Chow mix, was found as a stray and brought to the Cumberland County shelter in NJ and, surprisingly, went unclaimed. She is a sweetheart of a girl who just loves people and would love to have a family to call her own. She can be a bit unsure of people at first, but she quickly warms up. She is very well mannered and LOVES belly rubs! She has plush, golden-colored fur with a contrasting designer-style black headband on the top of her head and on her ears. Oh, and look at that big, bushy plume of a tail! Just gorgeous!
Heather is dog selective, but with the right dog and a proper greeting, she can be okay. While at the shelter, she had several meet and greets with other dogs. She was introduced to a male pit-mix and she was fine with him. The shelter staff also tested her with cats and she wasn't sure what to make of them at first. Mr. Kitty got in a good swipe and she quickly gave him a wide berth. So with proper supervision and introductions, she may be able to cohabitate with cats as well. Heather is up-to-date on her shots and will be spayed. Heather rides nicely in the car and will typically lay down and enjoy the ride. She is decent on the leash, enjoys taking walks, is house-broken, and trustworthy in the home.
Heather is about 3 years old and weighs around 60 lbs. She is up-to-date on her shots and will be spayed prior to adoption.
For more information about German Shepherd Rescue of New Jersey's adoption policies and to access their online application, please read and review their Adoption Process. ​
Heather is a courtesy post and is not a SGRR dog.
---
Zorro
Zorro, a handsome and mature 9-10 year old black Labrador Retriever, originally came into the Town of North Hempstead NY Animal Shelter as a stray in October of 2015. When Zorro first came in, he had a slew of infections, including severe chronic issues with his skin and ears that had been left untreated. After fixing up this poor guy, including surgery, he was adopted out to a great home in February of 2016. Unfortunately, his new owner has fallen ill and can sadly no longer care for him. Zorro is independent in nature, housebroken, and is very energetic for his age. He loves to go for long walks- including romps in the snow! Zorro needs continued maintenance for his ear condition, and would do best in a home with no other animals.

Zorro is up-to-date on his vaccines, neutered, heartworm negative, microchipped, and ready to meet you!! If you are interested in this handsome boy, please contact Genna Tudda at the Town of North Hempstead Animal Shelter, 516-869-6311.

Zorro is a Courtesy Posting and not an SGRR dog.

---
Hallie

Meet

Hallie

!
Hallie is a sweet, lovable senior lab mix, around 8-9 years old. She's a little girl, around 55 lbs. She needs a securely fenced yard (otherwise apt to go off exploring on her own) and an adopter who won't need to leave her alone for long stretches of time - she thrives on human affection. She would prefer to be an only dog because she likes her humans all to herself.. She is super lovable, great with kids (but no small toddlers, please), and loves walks and car rides! Cats are an unknown - she has not been tested with them. Hallie is being fostered in southeastern MA.
If you are interested in adopting
Hallie
, please apply with Southern Roots Rescue - ask for me,
Hallie
!
http://southernrootsrescue.org/
Hallie is not a SGRR dog - questions can be directed to Sue @
agksueclarke@gmail.com.