Courtesy Listings...

Rescues helping Rescues...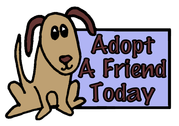 "Courtesy Posted" dogs are listed on our website to help the compassionate people who have rescued or owned these dogs find homes for them. Courtesy dogs are not affiliated with SGRR and are available to be adopted privately via the information provided in their bio.



---
Gunner

Gunner, a 5-year old Golden Retriever - Special Needs - Courtesy Post
For years, Grateful Goldens Rescue in South Carolina has accepted dogs with injuries and other health issues, but none like sweet Gunner. Now five, Gunner came to Grateful Goldens three years ago, with such severe, untreated allergies that most of his hair was gone. Because of his condition, Grateful Goldens felt that it would be best for Gunner to be placed in a permanent foster home. Grateful Goldens was fortunate to have found a wonderful foster family for him and, for the past three years, they have been diligent about getting him to specialists for treatments as well as making sure he receives a variety of medications and baths. Unfortunately, personal circumstances have made it so that they can no longer keep Gunner and Grateful Goldens is faced with having to find a new permanent foster family for him.

Gunner is a handsome, red boy who is rumored to be in the same bloodline as the Bush's Baked Beans dog, Duke. True or not, we can tell you that Gunner, despite his allergies, is a good-natured dog who loves to snuggle and take walks. He loves children, but has not been around other dogs in some time so would be happiest as an only dog. He is also a great patient who never complains about his medications and quietly stands for his frequent baths.

An ideal situation for Gunner would be someone who stayed home -- someone who has experience caring for a dog with special needs and a big heart would qualify! There are some desired details about a future home that will help with his allergies and they can be discussed if you have a sincere interest in providing a permanent foster home for Gunner.





As you can see by the photos, Gunner has made progress as he now has a beautiful coat. But his allergies are still severe and must be carefully monitored. That doesn't mean you can't have fun with this special dog. He is guaranteed to steal the heart of the special person who steps up to provide him with a new home.



Grateful Goldens Rescue in South Carolina

needs to find a new home for Gunner very soon, so if you are interested in adding Gunner to your family, or you know someone else who might be interested, please contact

Grateful Goldens Rescue

at

info@ggrlc.org. They will be waiting -- and so will Gunner!

Gunner is a Courtesy Posting and not an SGRR dog.
---
Sasha

Sasha is a beautiful young Golden girl rescued from a high kill shelter in TN. When no owner came forward to claim
this sweet dog, Memphis Area Golden Retriever Rescue stepped in to help. Sasha is approximately 1 year old and
weighs about 60 pounds. She is fantastic with people and loves to cuddle. But because she likes some dogs and
not others, it is felt she will be happiest as an only dog. However, she is okay with cats and is presently doing fine in a foster home with a male dog.
Sasha has a gorgeous thick, healthy coat with a hint of dark highlights on her ears and tail. And she has the most expressive eyes! She walks calmly on leash and doesn't pull and rode well in the van, waiting patiently to be crated for the ride to the rescue clinic. She loves the attention she gets from the staff and enjoys playing with a toy in the yard, during playtime. You can read more about Sasha and see her video via this link:
https://magrr.org/available-goldens/

sasha
If you would like to know more about sweet Sasha (ID 2221), please contact Phyl at MAGRR:
Rescue@magrr.org

Sasha is a Courtesy Posting and not an SGRR dog.
---
Sky

Meet Sky! Sky was surrendered by her owner, to a high kill shelter in TN. Memphis Area Golden Retriever Rescue
came to her rescue and is now helping Sky find her forever home.
Sky is about 2 years old and a bit shy when she first meets new people. But she warms up quickly and is oh so
sweet and loving! Sky enjoys being cuddled and petted and is a very calm dog. Sky weighs approximately 51 pounds
and is crate trained and housebroken. She is OK with most other dogs, but must be introduced correctly and does not
like to share her food with other dogs (no issues with people handling her food). Ideally, she would probably be happiest
as an only dog.
Sky has had several litters of pups and may be a former puppy mill dog. She has a beautiful soft coat with beige spots that match the darker coloring on her ears. She was a little on the thin side when she first came into rescue but will fill out
a little and be absolutely beautiful! You can read more about Sky and see her video via this link:
https://magrr.org/available-goldens/sky
If you would like to know more about Sky (ID 2204), please contact Phyl at MAGRR:
Rescue@magrr.org

Sky is a Courtesy Posting and not an SGRR dog.
---
Rex

Rex is a very handsome, high energy, activity focused 3-year old dog, well-intentioned and cheerful.
He weighs 70 lbs and appears to be
a sweet mix of Malinois and Ridgeback.
Rex was found on the side of a highway by his Mom as a 4-month old puppy and has grown into a happy dog who wants to please. He listens well and knows the commands "sit" and "down." He is good on the lead and very amenable to direction. A favorite activity is car rides, and Rex jumps into the car every time his Mom opens the car door, hoping for a ride. Rex lives with several Salukis and two other rescue dogs and they all get along very well. The reason Rex is looking for a new home is that his Dad recently passed away and Rex, who loves to run and play, is not getting the activity he needs and loves so much.
Rex is neutered and is current on all vaccines. He takes no medications, and he is ready to travel to meet his forever family. If you would like to learn more about Rex, please email
cambalu@lobo.net and ask about Rex.
---
Hallie

Meet

Hallie

!
Hallie is a sweet, lovable senior lab mix, around 8-9 years old. She's a little girl, around 55 lbs. She needs a securely fenced yard (otherwise apt to go off exploring on her own) and an adopter who won't need to leave her alone for long stretches of time - she thrives on human affection. She would prefer to be an only dog because she likes her humans all to herself.. She is super lovable, great with kids (but no small toddlers, please), and loves walks and car rides! Cats are an unknown - she has not been tested with them. Hallie is being fostered in southeastern MA.
If you are interested in adopting
Hallie
, please apply with Southern Roots Rescue - ask for me,
Hallie
!
http://southernrootsrescue.org/

Hallie is not a SGRR dog - questions can be directed to Sue @
agksueclarke@gmail.com.