Courtesy Listings...

Rescues helping Rescues...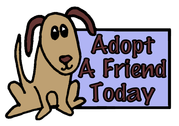 "Courtesy Posted" dogs are listed on our website to help the compassionate people who have rescued or owned these dogs find homes for them. Courtesy dogs are not affiliated with SGRR and are available to be adopted privately via the information provided in their bio.



---
Bella

Bella is an amazing loving
Old English Bulldog
, with pedigree papers. She weighs 75 lbs and goes to vet and groomer on a regular basis. She is two years old, house trained, not aggressive, better on her own, but ok with other dogs (lives with another dog now), does not have food aggression, her treat signal when giving her treats is "be gentle" and she will loving take it out of your hand. She does tend to jump when people are at the door. She only barks when alerting you to something outside. She needs work on a regular leash, but walks well on a tug leash. She has medium energy and is a major snuggler! She can be left for 6-8 hours with no accidents. Needs chew toys to keep her busy. Her mom tell us, "I would not ever give her up except that I have another large dog and 2 teens, getting divorced and unfortunately my soon-to-be ex-husband will not take her. It's just too much having 2 dogs on my own. She deserves better than I can give her."
Bella is up-to-date on vaccinations, on heartworm preventatives, and is spayed. Bella is a courtesy post and is not a SGRR dog. Please contact
cillibuckley@gmail.com
if you are interested in adopting this sweet girl who currently resides in North Jersey.
---
Midnight & Blackie

Midnight and Blackie are approximately 10 years old. They are very bonded, so they will have to be adopted together. They are completely vetted, weigh between 70-80lbs. They are a very special pair, enjoy the company of other dogs, are fine with cats and love children. They are easy-going, calm and appreciative of any attention. They look forward to spending the rest of lives, enjoying long walks, lying in the sun, relaxing at your feet... They will bring you many precious moments. Please contact Dorsey Patrick,
dcpphoto@aol.com
, Jesse's Place Rescue, Inc.
www.savethelabs.com/501c3
Midnight & Blackie are a courtesy post and are not SGRR dogs.
---
Heather

Heather
, a stunning Shepherd/Chow mix, was found as a stray and brought to the Cumberland County shelter in NJ and, surprisingly, went unclaimed. She is a sweetheart of a girl who just loves people and would love to have a family to call her own. She can be a bit unsure of people at first, but she quickly warms up. She is very well mannered and LOVES belly rubs! She has plush, golden-colored fur with a contrasting designer-style black headband on the top of her head and on her ears. Oh, and look at that big, bushy plume of a tail! Just gorgeous!
Heather is dog selective, but with the right dog and a proper greeting, she can be okay. While at the shelter, she had several meet and greets with other dogs. She was introduced to a male pit-mix and she was fine with him. The shelter staff also tested her with cats and she wasn't sure what to make of them at first. Mr. Kitty got in a good swipe and she quickly gave him a wide berth. So with proper supervision and introductions, she may be able to cohabitate with cats as well. Heather is up-to-date on her shots and will be spayed. Heather rides nicely in the car and will typically lay down and enjoy the ride. She is decent on the leash, enjoys taking walks, is house-broken, and trustworthy in the home.
Heather is about 3 years old and weighs around 60 lbs. She is up-to-date on her shots and will be spayed prior to adoption.
For more information about German Shepherd Rescue of New Jersey's adoption policies and to access their online application, please read and review their Adoption Process. ​
Heather is a courtesy post and is not a SGRR dog.
---
Hallie

Meet

Hallie

!
Hallie is a sweet, lovable senior lab mix, around 8-9 years old. She's a little girl, around 55 lbs. She needs a securely fenced yard (otherwise apt to go off exploring on her own) and an adopter who won't need to leave her alone for long stretches of time - she thrives on human affection. She would prefer to be an only dog because she likes her humans all to herself.. She is super lovable, great with kids (but no small toddlers, please), and loves walks and car rides! Cats are an unknown - she has not been tested with them. Hallie is being fostered in southeastern MA.
If you are interested in adopting
Hallie
, please apply with Southern Roots Rescue - ask for me,
Hallie
!
http://southernrootsrescue.org/
Hallie is not a SGRR dog - questions can be directed to Sue @
agksueclarke@gmail.com.