Charlie Brown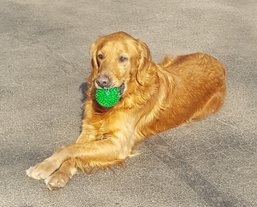 Update 2/7/17
WOW! WOW! WOW! All we can say is WOW!
Charlie Brown has been at the training facility in the Hartford, CT area for about 2 weeks now in basic training. He started boot camp earlier this week and is way ahead of expectations! Charlie has been hanging out with two other dogs with no leash and calm energy. In this short time, he has already adapted a relaxed posture with other dogs and has even displayed a play-bow stance!
Upon speaking with one of CB's trainers, he advised that Charlie is totally on track with his behavior modification. He has already turned his
fixation
on other dogs to
focusing
on what his human guides him to do. When you watch
CB's video
, you will see how the word "focus" is utilized. Charlie has learned to trust and to rely on his humans for guidance and to not be stuck in guarding behavior. The trainer could not say enough wonderful things and this dog! And so we asked, "
What type of home would suit Charlie best? Can he live with another dog? How about cats? What does Charlie need?
" And the response was, "
Yes! Charlie would love to have children to play with! Yes! Charlie can live with another dog with balanced energy! Yes! Charlie pays little attention to the cats at the training facility."
He went on to say,
"The Big Guy loves going for car rides and loves being out and about with his people. He is not the type of dog who would do well sitting home and being a couch potato. He loves going out on hiking trails, and he loves walking and running.
"
Charlie Brown will be at the training center until approximately 3/3/17. It is our hope that we will have an adopter for this boy very soon who can take advantage of the extended training offered. CB's adopter will be able to visit the facility in East Hartford, CT once a week, on a Thursday for 1 hour. Here, the potential pet parent can learn the training techniques used and will be able to start to bond with CB prior to going "home." A resident dog can even be brought along for a meet & greet. This is one AMAZING dog who is very human-focused. Whoever adopts him is going to be gifted with a very best friend!
Charlie Brown's Story
Charlie Brown is a handsome 6 year-young purebred Golden Retriever who is just as sweet as they come. He was surrendered by a family in the south whose financial circumstance was complicated by the poor health of their child.
Although he lived with a small dog in his former home, CB came to our rescue with a less-than-friendly attitude toward other dogs. We were told that he was attacked by a large dog when out for a walk and has since been on the defensive end. Charlie is at a training facility in the Hartford, CT area where they are working on his reactiveness toward other dogs. His behavior has improved by leaps and bounds and we are so proud of our boy!
Charlie is an active dog who requires an active adopter. He is a lively fella who would make a wonderful companion for walks, runs, or hikes. Whatever your day calls for, it's fine with Charlie, just as long as he is with you. Charlie Brown is trustworthy in the house and is just an all 'round nice dog. He loves playing fetch and will sit on command and wait until released to go get the ball! He's a real smarty pants! :-) A physically fenced yard is on Charlie's wish list, but what Charlie is really praying for now is for someone to fall in love with him and adopt him. We know he will flourish when he is settled in and knows he is loved.
Charlie Brown is up-to-date on vaccinations, heartworm negative, neutered, and microchipped. While he experienced some hair loss due to a food allergy, his coat has rebounded nicely with the quality diet he is eating. If you are approved to adopt through SGRR, contact
Donna
to be considered to adopt Charlie Brown. If not yet approved, please fill out an
application
to be considered. Charlie Brown is in CT and is waiting for you!