Adoptions Stories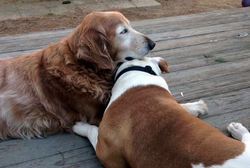 Jackson was adopted from SGRR in 2012, At 15 years of age, he has been a mentor to many of the dogs that his mommy doggy sits for. A few days ago, Jackson experienced a seizure and had to spend a few days at the vet's office. Now back at home, he is taking some time to recuperate.

Coda, 9 month old bulldog pup, sensed Jackson's lethargy and was upset that his mentor didn't want to romp. True to his beautiful golden spirit, Jackson took to comforting Coda and letting him know everything will be okay.

A Letter from Addy's Family

They say that from adversity, character is born. Truer words have never been spoken more clearly about our Addy.

When we saw Addy on the Sunshine Golden Retriever Rescue site, she was called Ruth and her story and pictures touched us deeply. Her story began in March of 2015 in AL. As with most rescued dogs you never know where they come from or how they became "lost." What we knew about Addy was that a Good Samaritan witnessed her being attacked in the street by another dog. She broke free only to run into the road and get hit by a garbage truck. Addy rolled into a ditch and the Good Samaritan called for help. She was picked up by Animal Control and brought to the shelter where she stayed through the night. Her ear torn and bloodied from the attack, her body purple and bruised, and a tooth hanging by just the nerve.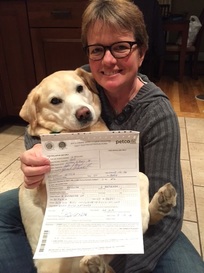 Many rescues were called, but SGRR was the first to respond to save her. They immediately got her medical care and thankfully she had no broken bones. Addy's tooth was extracted, her ear was mended, and the healing was set to begin. After discovering she had heartworms, Addy stayed with a foster family through her long treatment. Finally in May of 2015, Addy was set to come north to CT to meet her new family. During her trek up North, the transport broke down during the Memorial Day weekend traffic in PA. Thanks to two wonderful sisters who searched desperately to find an air conditioned vehicle, they finally found a van in ME to rent. They drove to PA, loaded up the rescued dogs, and drove all through the night to deliver our beautiful girl at 3:30 AM.

Once Addy realized that our hands were made for gentle caresses and kisses she knew she was truly loved. She blossomed and we knew we were blessed with a special girl. Addy was a natural and learned the 10 steps of Canine Good Citizen certification easily. On February 12, she passed the test with flying colors and became a Canine Good Citizen. We are so proud of her and the great dog she has become.

We would like to take this opportunity to thank all of you (and we know there are so many of you) who were involved in rescuing this quiet, gentle, loving and intelligent girl and bringing her into our lives. We are truly blessed.

Sincerely,

Brenda, Amy, Lola, Max and Addy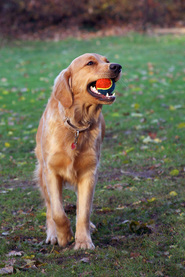 Sophie - adopted 2008
"I wanted to offer an invitation to add Sophie to that portion of your Sunshine site. When she was a puppy, I took weekly pictures of her, and our Josie (now at the bridge), to chronicle her first year and put them on my personal website. Basically, it's oodles and oodles of pictures of our dogs, but still, it shows how wonderful rescues can be to families. It also shows that all dogs require responsible ownership, vet care, socialization, and human loving. Here's her part of my site- It grew into a much bigger project than I expected when I committed myself to it!
http://casualclicks.com/sophie.html
Sophie is still with us, though her face is becoming white and she's a little slower to rise in the mornings. She was very sad when Josie passed away but has adjusted to being an "only dog." It's only recently that we've begun to consider adding another... It'll most likely be a while before we actually take that step..."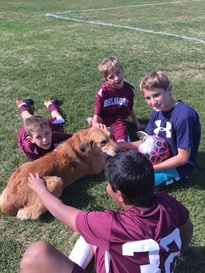 Rose


Rose is loved in her forever home by her dad and her two human brothers. Her dad told us that she is just the best dog ever and is so good with the boys. Dad is the coach of his son's soccer team and Rose goes to all the practices and games. He said she has become somewhat of a celebrity in their small town. "She's amazing - so loving to kids and other dogs."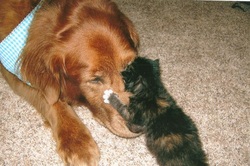 Chili

Chili (formerly known as Spice Girl) was a dog rescued from Hurricane Katrina in the Fall of 2005 by our sister rescue, J & L Golden Retriever Rescue. Chili's mom Phyllis first heard of the need for Katrina dog foster homes at her church, and truly feels that she and Chili were meant to be together – Chili stole Phyllis' heart the minute they saw each other, and there was no going back.

"My Chili dog (as I affectionately call her) is the best, smartest and most loving dog I have ever had. She is my shadow and loves to go anywhere I go. From investigating the grounds when I am outside to swimming in our pool, taking naps with me, walks and playing fetch. She has a hard time using her inside voice when people come over, until they sit down. Then she will usually stuff her baby in her mouth and bring it down to a low bark or growl - but do not get back up or she's back to making sure you know she is there! My Chili dog is getting old and I am afraid I will not have her around too much longer. I will take the good with the bad, the happy and sad and cherish the time we have left and do it all over again to have such an amazing child! She is my constant companion, a fantastic listener and my friend until the end. She will always have a part of my heart and all my love!"

---
A Letter from Frankie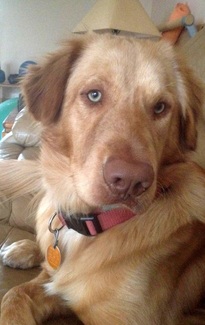 Dear Sunshine Golden Retrievers Rescue

Just a few short months ago, I was seeing the world for the first time pain-free due to your kindness, love, and generosity. From the very tip of my beautiful golden tail, to the tip of my chocolate nose, I thank everyone at SGRR for saving me and giving me a new start at a happy life.

Thanksgiving 2104, I was rescued by my new forever family. My family loves me to the moon and back, and I love them even more. My mommy works with me all the time on my manners and tricks. She is very proud how quickly I learn. It's been about a month now that I am settling in my new home. I sure do love it here. Mom makes sure I have soft comfy beds (yes, I said beds) to nap on. I'm such a good sleeper that Mom nicknamed me "Spud."

I have two 2-legged brothers that I love to spend time with. My oldest brother, Dan, isn't home very much but when he is, I can sure feel his love.

My other brother, Jeremy, is one super cool dude. I love to hang out with him while he watches his favorite game shows or some of his favorite movies – All Air Bud shows. Jeremy lets me keep my toys in his room and doesn't mind my mess. I love my stuffed squeaky toys, but for some reason, their ears keep falling off. Mommy is amazed at how quickly this happens. I also have been going with Jeremy to hang out with some of his friends at his "Club Nights" or Special Olympics' bowling practice. The noise doesn't bother me at all and there are so many people there that just want me to give them a kiss. I guess my kisses are very special. Mom says "I was born to love the world."

2014 has ended happily ever after for me with my new family. I think we are all so happy and filled with love that we wanted to share it with the people (SGRR) that made one family and one doggie very happy.

With Love Always,

Frankie "Sinatra" Myron

Marley's story


A man purchased Marley as a puppy from a local breeder but after a few short months into his adoption, his owner became ill and required medical attention. Not wanting to believe his illness would be long term, he kept Marley tied outside for friends to stop by and feed, though the friends soon forgot to do this. When he was rescued by SGRR he was nothing but skin bones and barely able to walk. In 2010, Marley became the newest member of the First Town 4-H Veterinary Science Club out of Windsor, CT who paired up with canine behaviorist Dr Elissa Edson, who would train Marley to be a service dog.

Click here

to read more about Marley, his service dog accreditation, and his life's journey. You can also check out

Marley's Facebook Page

.

Jake
Jake, 8 years old was adopted and returned one day later, and went to SGRR's very own Susan Love for fostering, Susan was a foster failure and adopted Jake into her home. Susan tells us that Jake is a very sweet wonderful boy who loves everyone and, despite his arthritis and creaky bones, has become quite playful and his mobility has improved greatly . His coat is growing out and he will soon look less like a big yellow lab and more like a gorgeous golden that he is!

Bear




Bear, now called Luna, was adopted by Tony and Therese and is making her new home in New Hampshire. Tony and Therese have 3 other rescues and they all have been getting along great. Luna is eating well and is a great watchdog. She is not shy about barking if she senses something different. They are so glad that they have adopted Bear-Luna!
Maggie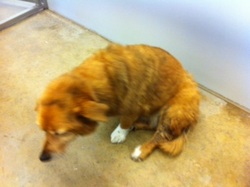 The dog picks the person. This I believe to be true. I wasn't sure, though, how that belief is suppose to translate into reality when the dog lives many miles away and is one of hundreds on an Internet site. I saw a picture of a little dog but it wasn't her photo that grabbed me, it was the fact that someone was thoughtful enough to write in her bio "this is a nice, nice little girl." "Well," I thought, "I can go with nice" and so I filled out the application. That's where the SGRR matchmakers stepped in. "This little dog needs a quiet home, you have a quiet home that badly needs a dog." And so it began, the sleepless nights, I mean. The anxiety, the worry - what if she doesn't like me...? There was no chance to visit her, no opportunity to see if the chemistry was there, nothing - just a picture, and the word of total strangers.

When the transport truck pulled up on May 24th I was a bucket of nerves. I've had dogs all my life but this was my first experience with an out of state adoption. Lesson number one: trust the rescue organization. They had the foresight to send one of their volunteers to hang in there with me. That lovely lady was a rock and while I hung back she was right up in front of the crowd with the paper work asking for my dog.

When Maggie May came down the ramp of the truck, I heard a collective "oh she has three legs" from all around me." I said, "Oh she's got red hair!" I already knew that she had three legs and it wasn't important to me but I loved that she was a red head! I was worried that she wouldn't like me but she actually gave me a look that said "Well your red hair is a mess and you're crying but you've got a bag of treats in your hand so I'm going to give you a chance."

And so it began. She came home and discovered her new crate with the memory foam mattress and a comfy bed sent by her doggie cousins in Massachusetts and she gave me a look that said "very nice." She toured the house, found her water bowl, had a bite to eat, ignored the toys, and then slept for hours.

She's only barked once or twice since we've met and she's growled a couple of times at bigger dogs who feel the need to check out her amputation site, letting them know that she's got a touch of the Irish in her. (That pleases me!) More importantly, she is a master of silent communication. She sits and points her chin out when she wants to go up on the couch. She stretches out her neck for her leash when she wants to go outside. She lies down and stares hard at the place where her food bowl should be when she's ready for her meals.

She loves to go to the park. She's at the door like a shot when I say, "park "and "ride" in the same sentence. In spite of having three legs, I discovered that she loves to run and since I'm a runner this works out wonderfully. She can go about a quarter to half a mile quite well. I got her a pet-jogging stroller, which she loves. On our outings to the park, she spends part of the time riding in her stroller, graciously acknowledging all her fans that stop us to pet her. Now she signals me when she wants in her Maggie Mobile and when she's ready to get out. She is a diva who loves to be petted by everyone she meets and graces them with non-stop tail wags. People who see her walking ask if she's handicapped or they say "oh that poor dog." Maggie looks at me as if to say, "Who the heck are they talking about?" There are words to describe Maggie May but

handicapped

and

poor dog,

she is not. What she is is confident, sweet, funny, and super smart.

I don't know anything about Maggie May's back-story. I don't know how this amazing dog could have ended up in a kill shelter with a leg so badly broken that it needed to be amputated. I thank God every day for the angel from SGRR who saw the heart of this little girl and pulled her out just before she was to be euthanized. I thank God for the wonderful foster mom who got her through her post surgery rehab and maybe for the first time showed Maggie May what it's like to feel safe and loved.

Maggie May is having a great time. She's made many friends in the past months - people and dogs alike, as well as a family member's pet rabbits. She's very social. She loves going to doggie daycare. She visits her dog friend who lives next door every single day. She's so outgoing that I'm hoping she will become the mascot for an organization for disabled athletes here in Connecticut. She will be a perfect ambassador.

Now how did I learn that she picked me? Lesson number two: Look for the obvious. My brother pointed it out to me. He said "she doesn't need to wag her tail constantly with you anymore like she does with everyone else. She's comfortable". It's true. When we sit on the steps of the deck at night, she sits quietly and just leans into me. When we're together, she has this contented little smile. She doesn't worry anymore when I leave the room. She knows I'm here.




I believe it's true. The dog does pick the person.

7/2014
---
Alex

I just wanted to check-in since it was just our 1 year anniversary with Alex. A million thank yous again for getting this wonderful guy to us!

This past year has been a joy with him. He is the sweetest, cutest guy. He is always ready to play, walk or cuddle and is the best fit for our family. We are so thankful to you and Sunshine for saving him from a sad, lonely life.

Pictures provided is with some of his anniversary goodies!

8/2014
---
Pearl

My name is Pearl, but I am also called Pearly Girly. I don't know who gave me the name Pearl, but my Mom says that name fits me because I am a "little gem." When I was approximately 9 months old, I gave birth to a litter of puppies. I was so young and hardly more than a pup myself. My former owner then surrendered me to a shelter in Alabama and kept all of my puppies. I was in very bad shape, filled with milk, and very thin, and weighing only 35 pounds. That's when SGRR stepped in!

When I was healthy enough to travel, I made my way north to Connecticut. Betty was a great foster Mom and she took very good care of me. In April 2007, my new Mom and Dad came to meet me and take me to New Jersey, to my forever home. I was very nervous and I buried my head between the back seat and my Mom's back during the entire ride home. I was scared because I was only 11 months old and I had so many homes and names in such a short time. It took me a little while to settle in and, at first, when my Dad or another man came into the house, I would shake and hide under the bed. Every day my Mom would take me on walks. More and more, I started to feel like I was safe and could trust people. I liked my new home!

My Mom thought it would be a good idea that we go to dog school. When I completed my training, I received my Canine Good Citizenship certificate. Everyone thought I would make a good therapy dog because I am so sweet and gentle. I passed the test and became a certified with Therapy Dogs International (TDI).

When I first went to visit nursing homes, I could not understand why I could not get the tennis balls off the legs of the walkers. But I have come a long way since that time! Now I visit a hospital, nursing homes, and a school with special needs children. In the hospital and nursing home, I give therapy to the patients and the nursing staff. Everyone is happy to see me and they say I am so sweet and beautiful. At the school I do tricks for the children like balance a treat on my nose and wait for my mom to say "OK!" before I eat it. The children laugh and clap. My picture is in their yearbook and I get invited to their graduation. After the children receive their diplomas they call me up on stage and I receive the Top Dog Award and a BIG BONE. This fall I started going to an elementary school and the children read to me. I have made almost 200 therapy visits and received the TDI Active Outstanding Reward.

This past August TDI invited my Mom and me to take part in a documentary that they were making. The video is being shown on a newscast show in Korea to introduce the Korean population to therapy dogs and the good work we do. It was fun making the video and I felt like a celebrity! You can also watch a

clip about me

from my local news channel.

People tell my Mom how lucky I am that she rescued me. My Mom disagrees and replies that she is the lucky one because I am such a wonderful dog and have brought her so much happiness. We are both grateful that we have found each other!

My Mom and I are two of the lucky ones. If you are a dog like me, do not ever give up hope that your special person will find you. If you are a person who needs a dog to make your life better, please consider rescue. Please consider Sunshine Golden Retriever Rescue!
---
Ruffy



It takes a village.

We hear those words so often. It is such a true statement when it comes to a rescue. There are so many people that make it work – those that pull from the shelters, those that arrange for transport and greeters, those that foster, those that review applications and answer questions, those that keep all the wheels (and people) turning.

And then there are our adoptive families. Families who are willing to open their hearts to a dog that they may not know much about, except that that dog is supposed to be a part of their family. In many cases, the transition is not easy. It can take patience, perseverance, and a heck of a lot of love.

Recently we received a letter from one of our adoptive families. It is an example of how all those pieces work together, and why it is all worth it.

Hello Sunshine Goldens,

I took Ruffy to get his summer cut today. The groomer remarked, "He is one of the happiest dogs I have ever worked with." Which is probably true. He is a happy dog.

Our big lunk greets the world with a great toothy grin, a vigorous wag of his tail, and an occasional deep "Whoo-whoo-woof."

We adopted Ruffy (who was "Ozzie" when we got him) 7+ years ago. His first 2-3 years were a trial. He would nervously urinate with eye contact, he paced and paced and paced, he tore apart anything fluffy or stuffed, he pulled with all his might on the leash - often pulling the kids long after they had tripped and fallen but who held the leash like grim death because if he got off the leash or pulled it from their grip he ran fast. And far. And he is very, very fast. We spent some hard nights chasing him, calling him, hoping he would slow, stop, and come to the offered biscuit. But he was given love every day, from me, from the whole family. It was not returned for the most part. He really did not seem to see us as important, or interesting. I have never met a Goldie who did not want to spend time with his family - but Ruffy really did not. If we were on the deck, he was pacing the lawn. If we were all inside, he was outside. Or just went to his blanket when he was inside. The kids poured love on him - of course - but it was not the Norman Rockwell dog experience I expected when we adopted him. And so it went, for month after month.

And then he began to trust his family. He would not necessarily get up to greet you in the AM, but he would wag his tail when one of the kiddos was getting his breakfast or dinner. And he would, at times, sit still long enough to give his ears or flank a good scratch.

He began to realize when he came into a room we were happy to see him and it came as a surprise to him, I think, that he was glad to see us, too. Over the past 3-4 years, he has become the Goldie everyone thinks of when they envision the breed - sweet and loving and happy. His journey was not easy. It breaks my heart to think of what his first months/year must have been like. But those chapters are long, long gone and he is, today, a happy, happy dog.

Which is a long way of going about telling you that the sad, broken, slightly odd boy you let us bring into our house and family is a shining light of love and happiness today. "As happy a dog as we get to work with." And to say "Thank You." And to tell you the work you do is important. For the dogs, of course. But also for the families they go to. My kids have learned a tremendous lesson about unconditional love, and the full reward that the steady giving of care and affection can bring.

Thank you.

And to Ruffy's family, SGRR says, "THANK YOU!!!"

---
Lexi - A SGRR Dog in the News!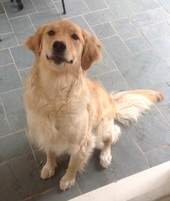 SGRR alumni, Lexie, was adopted by a vet in the Spring of 2014. The local news sometimes films at their office. Beautiful Lexie was asked to do a cameo appearance in this piece about pets and fireworks. She appears about a minute into the segment with the reporter. Click
here
to watch!
---
Sweet Pea

Happily Adopted - March 2014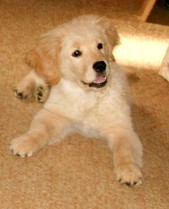 A "Sweet" Success Story
Although beautiful Sweet Pea was born to litter of show puppies, she had far from a prize winning beginning. In fact, she came into the world with an anatomical deformity, megaesophagus, which makes it difficult for food to travel down the esophagus to the stomach. Because of this, her breeder gave her away at a dog show to someone who, sadly, couldn't handle the feeding routine Sweet Pea required. (Dogs with megaesophagus must be fed a soupy mixture and sit upright in a special chair to keep the food down.) So this little puppy was passed on to a kind foster family who took her in, researched her condition, and successfully managed her special feeding until SGRR could find her a forever home.
Not surprisingly, it wasn't long before a family saw a picture of Sweet Pea and fell in love with her. After they learned about what is needed to care for a dog with this disease, they applied to take her to their forever home. The rest, as they say, is history. Sweet Pea's family adores her. A month after she arrived, they contacted Sunshine with this update. "Sweet Pea (Miss Madison) stole my heart as soon as I laid eyes on her. She is settled into her new forever home very nicely. She is thriving and has gained almost 10 lbs since March 1. This sweet lovable special golden angel has become the center of our lives, gracing us with so much joy and affection. I can't imagine my life without her. We love her to pieces."
It's obvious. Sweet Pea and her family are both prize winners.
(
Click to enjoy
her video
!)
---
AUDIE

Happily Adopted!
The 4 stages of Audie's reaction to his new stuffed bear:
1 - what is it? this is for me?
2 - better shake it hard and fast to make sure it's dead!
3 - that was fun!
4 - napping with his duck


5-year-old Audie was sprung, literally, from his cage by a Sunshine volunteer who noticed him listed on Craigslist. He spent up to 16 hours at a time in a crate, was let out for a few minutes of freedom, then put back in the crate. He was filthy and had such muscle atrophy from disuse that walking was difficult, and squatting especially so. The Harper's in New Hampshire took him in as a foster pet and turned that boy around in short time to the point where he could run uphill fast!

Now he's at his forever home in Canton, CT with no crate in sight - just a good sized house and big world to roam around in. He was born with cerebellar dysplasia, which makes him a little floppy - it adds character! He also has epilepsy and hypothyroid, but those are under control. Mostly he has huge brown eyes and a gentle soul. Even the resident cats immediately realized he's no threat.

Toys seem to be a new idea to him. Balls are of absolutely no interest. But stuffed animals, hey, those are great! He doesn't rip them apart, just gums them enthusiastically and shakes them. After his walks (a relatively recent new addition to his life) he luxuriates in stretching out on the cool kitchen floor or as close to his new persons as he can get.

One of his most endearing traits is his excitement about meal time - who knew a golden could bounce up and down that high?