A Note to Our Approved Applicants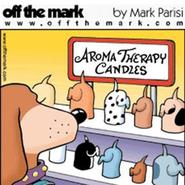 Applicants often ask how long it will take to adopt a dog. Sunshine, like many other rescue groups in the country, is currently in the enviable position of having many more terrific families and individuals approved and waiting to adopt a rescue dog than we have dogs. We wish that each of you could bring a rescue dog into your life as soon as you are approved to adopt. Knowing that is not possible, we ask for your patience and understanding as you await your dog. Our volunteers spend many, many hours evaluating our dogs and working on the right match to help ensure each dog finds a happy and forever home. For some of you, there will be a very short wait for a dog, while others will wait longer than hoped. This is simply a matter of getting the right match and does not reflect negatively on anyone. We are fortunate to have so many kind and giving people waiting to welcome home a dog in need. Thank you for your trust in Sunshine. We are hoping your wait will not be a long one!

Reasons to rescue...

Rescuing will change two lives forever — yours and your new companion's. Nationwide, animal shelters care for between 6-8 million dogs and cats every year, of whom 3–4 million are euthanized. The tragic fact is that there are simply not enough responsible homes for all of these wonderful, innocent animals. On occasion, SGRR will have puppies available for adoption that will be starting their lives, and some are older dogs who have been well cared for but whose owners can no longer keep them due to a change in circumstances. Many rescued dogs come to us sad and confused, and many have been neglected or abused. These sweet souls will require time and love, and often continued patience and behavioral work. Companion animals are remarkably adaptable and forgiving, with a boundless capacity for love. Their inner personalities will emerge as they feel more comfortable. While we begin the process with vetting and evaluations, their adopters are part of the rescue process and will be rewarded by seeing their new companions blossom! Just because they lived with someone else first, doesn't mean they wouldn't make a wonderful companion for you! If you can open your heart to one of these dogs in need, we encourage you to apply and become part of rescue.
---
Adoptable Dogs
Alice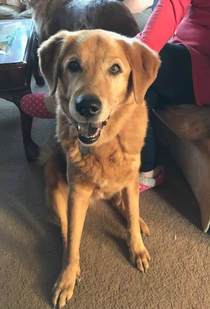 Click to read my story!
Pretty Lady!Breed:
Golden mix
Color:
Reddish Gold
Age:
7 years
Size:
Medium 40-60 lbs
Sex:
Female
Recently returned to SGRR, Alice is a sweet, pretty 7 year old Golden mix who is a joy. She is in CT ready to meet you. Read Alice's story on her bio page.
Cady & Cody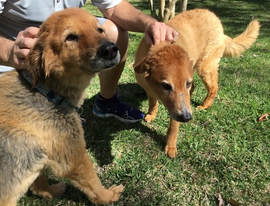 Click to read our story!
Happy Together!
Breed:
Golden Mixes
Color:
Gold
Age:
11 years
Size:
Medium 40-60
lbs
Sex:
Female and Male
Cody and Cady are a brother and sister Golden Mix pair who we believe have always lived together. Now 11 years old, their former family turned them into a LA rescue.

We suspect there must have been an illness or loss in their family with no one to take them in.

Read more about the pair on their page.
George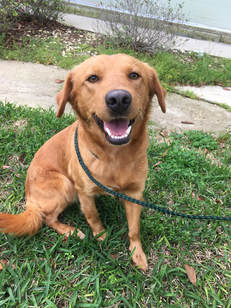 Click to read my story!
A Smile a Mile Wide!
Breed:

Golden Lab Mix


Color:

Golden


Age:

1-2 year

s
Size:

Medium 40-60

lbs


Sex:

Male
Picked up as a stray in AL, this adorable boy is now looking for his forever home. He has a face that lights up a room when he smiles. George loves other dogs and people of all ages.

Read more about this cutie pie on his page.
Matilda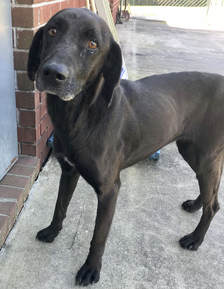 Click to read my story!
Such a Sweetie!
Breed:

Black Lab Mix


Color:

Black


Age:

3-4 year

s
Size:

Medium 40-60

lbs


Sex:

Female
Picked up as a stray in AL, this

loyal lady holds no grudges. Despite being abandoned by her former human, she is ready to love again.

Read more about this Labby love on her page.
Nini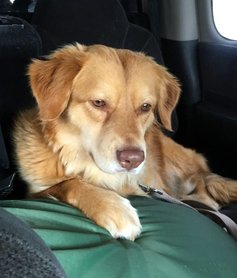 Click to read my story!
Sweetness in Fur!Breed:
Golden Retriever mix
Color:
Golden
Age:
4.5 years
Size:
55
lbs
Sex:
Female
Fostered in MA
Nini has been a treasured companion most of her life. Difficult financial issues have caused her former mom to seek a new home for this lovely lady. Be sure to read more about Nini on her bio page.
---
Courtesy Posts

With only a few dogs currently in SGRR's rescue program, we encourage you to visit our

Courtesy Posts

page. Take a look at wonderful dogs who are with some of our rescue friends. These dogs are just waiting for someone to love them and give them a forever home!
---
Adoptions Pending
Sam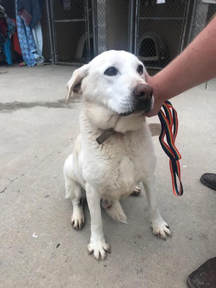 Click to read my story!
Adoption Pending!
Breed:
Labrador Retriever
Color:
White
Age:
8 years
Size:
Large 60-100 lbs
Sex:
Male
It was Sam's lucky day when his pet-sitter brought hm to the shelter. Never again
​ will this boy be left neglected and tied up outside. Be sure to read more about
​ Sam on his bio page. Not only is he handsome, but he is sweet as well!
Russell

Adoption Pending!Breed:
Golden Retriever
Color:
Reddish Golden
Age:
2 years
Size:
60
lbs
Sex:
Male
Russell is a handsome purebred Golden boy who was picked up as a stray. Amazing that no one came to claim this sweet boy. He now has an adoption pending and will be heading home in early April!
---
Happily Adopted
Goldie


Click to read my story!
Happily Adopted!
She's arrived safe and sound at her new home. She's made herself quite
at home already. I think she's adjusting well, almost as if she's always
been here. We've been keeping her activity minimal but you can tell she's
wanting to start to play and run around. She's been resting and napping
a lot but when she's awake she is alert, curious and interested in what's
going on around her. She's such a sweetie, a real delight! ~Kate & Tim


Joseph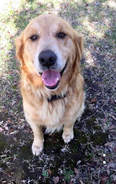 Happily Adopted in AL!
Joseph was named for the late father of one of our core volunteers.
​ He was adopted by a previous adopter in AL.
Bear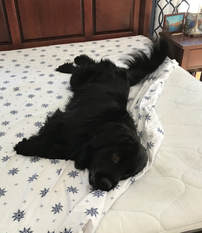 Click to read my story!
Happily Adopted!
​ Bear is doing great - he's settling in well. He's done well on his walks.
He does pull a little but isn't terrible with it and doesn't get startled
as much as I thought he would. He's very excited here and we're just
as excited to have him. He's been snuggling with us since he got here.
We're taking him to the vet Friday for his wellness check up too.
Thank you so much for assisting us with the adoption process.
~ Alexander & Anna



Hunny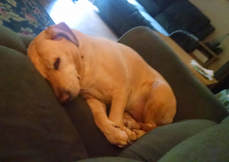 Click to read my story!
Happily Adopted!
We fell in love. She is happy today but still has a bit of nerves so we are
being very low key and giving her love. She has spent a lot of time checking
out the house and now she knows which bed is hers. She finally tinkled
outside 2 times and although we have never let our dogs on the couch I
just can't stop her. The most important thing is for her to relax and be happy.
She passed out next to me on the couch. It will take time for her to adjust but
she is such a good girl I know everything will work out. Ellie is adjusting too
and with Hunny's winning personality she will love her too. Hunny looks like
a mini Ellie. I'm so happy she's here. She is a delight. Thank you so much.
And thank you to (foster) Glenn - He is a very nice

man

.
~ Ame & Bob
Poppie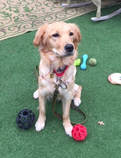 Click to read my story!
​ Happily Adopted!
She got here today! Her new name is Peggy Sue. She's very sweet. Starting to settle in and relax.

Poppie

found her spot last night. We are so happy.
Thanks to you, her fosters, and everyone at SGRR.
~ Mitch & Marie
​
Happy Tails


Forever Fosters


There are wonderful humans who will provide special dogs with a forever foster home, giving them all the love and attention they could ever hope for. Because of their age and/or disability these dogs were considered un-adoptable but they are still able to live with a good quality of life. SGRR pays for ongoing medical care for these special dogs Consider being a forever foster or sponsor so that we can continue to show that dog how wonderful his or her world can be. This is the true meaning of "rescue."
---