A Note to Our Approved Applicants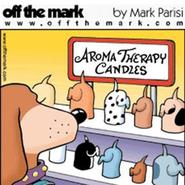 Applicants often ask how long it will take to adopt a dog. Sunshine, like many other rescue groups in the country, is currently in the enviable position of having many more terrific families and individuals approved and waiting to adopt a rescue dog than we have dogs. We wish that each of you could bring a rescue dog into your life as soon as you are approved to adopt. Knowing that is not possible, we ask for your patience and understanding as you await your dog. Our volunteers spend many, many hours evaluating our dogs and working on the right match to help ensure each dog finds a happy and forever home. For some of you, there will be a very short wait for a dog, while others will wait longer than hoped. This is simply a matter of getting the right match and does not reflect negatively on anyone. We are fortunate to have so many kind and giving people waiting to welcome home a dog in need. Thank you for your trust in Sunshine. We are hoping your wait will not be a long one!

Reasons to rescue...

Rescuing will change two lives forever — yours and your new companion's. Nationwide, animal shelters care for between 6-8 million dogs and cats every year, of whom 3–4 million are euthanized. The tragic fact is that there are simply not enough responsible homes for all of these wonderful, innocent animals. On occasion, SGRR will have puppies available for adoption that will be starting their lives, and some are older dogs who have been well cared for but whose owners can no longer keep them due to a change in circumstances. Many rescued dogs come to us sad and confused, and many have been neglected or abused. These sweet souls will require time and love, and often continued patience and behavioral work. Companion animals are remarkably adaptable and forgiving, with a boundless capacity for love. Their inner personalities will emerge as they feel more comfortable. While we begin the process with vetting and evaluations, their adopters are part of the rescue process and will be rewarded by seeing their new companions blossom! Just because they lived with someone else first, doesn't mean they wouldn't make a wonderful companion for you! If you can open your heart to one of these dogs in need, we encourage you to apply and become part of rescue.
---
Adoptable Dogs
Bandit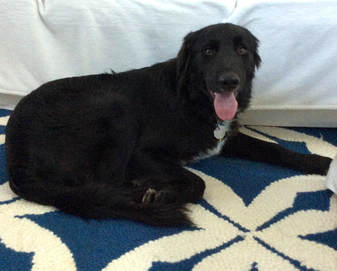 Click to read my story!
Ready to Steal Your Heart Away!Breed:
Golden mix
Color:
Black
Age:
12 months
Size:
Medium 40-60
lbs
Sex:
Male
Fostered in CT
Sweet Bandit is in need of a forever family. This adorable pup was turned into an AL shelter after living his life in a trailer park with little love and little direction. This boy is good with kids and other dogs. Read more about Bandit on his bio page.
---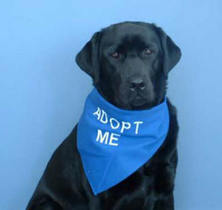 Courtesy Posts
Visit our
Courtesy Posts
page to take a look at wonderful dogs who are with some of our rescue friends. These dogs are just waiting for someone to love them and give them a forever home!
---
Adoptions Pending
Scout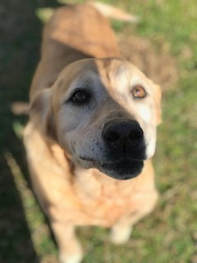 Click to read my story!

​ Adoption Pending!
Breed: Yellow Lab
Color: Cream
Age: 9 years
Size: Large 60-100 lbs
Sex: Male

Scout loves all creatures, and this even includes cats! Scout walks well
on a leash and he has a gentle, soft mouth. He is a sweet senior dog who
​ makes you want to give him all kinds of creature comforts of life. Read
​ more about Scout on his personal bio page!


Tallulah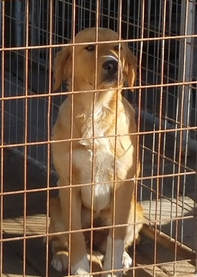 Click to read my story!

​ Adoption Pending!
Breed: Golden Retriever
Color: Golden
Age: 5-6 months
Size: 38 lbs
Sex: Female

Tallulah's family moved and turned her into a shelter in St Landry's Parish
in LA. Read more about Tallulah on her personal bio page!


---
Happily Adopted
Chip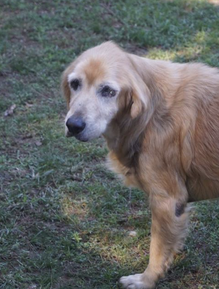 Click to read my story!
Happily Adopted!
It was love at first sight. What a sweet, adorable dog!!! Chip is doing very well!
His disposition is about as sweet as it can be. He is calm and well behaved and
loving. No problem with our cats - he is curious and he got one small scratch on
the nose and since then, all is well! He had a couple of pee accidents in the
​ house yesterday which is no surprise because I am sure he was confused, but
​ none today. He loves getting his coat and leash on to go outside, but the walks
​ are very short because it is so cold.

Cheryl says he is a Velcro dog and indeed, he follows us everywhere. Today he
​ had a little time with Alan and I both gone and he cried a little bit but my father
​ gave him a dog biscuit and then he curled up on his bed in the living room and
​ they both (he on his bed and my father on the couch) slept for the afternoon :)
​

Thank you so much for choosing us for Chip, we all love him! ~Jennifer and Alan

​



Bentley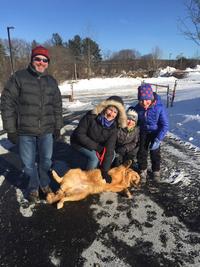 Click to read my story!
Happily Adopted!
We're doing great! Bentley is settling in really nicely! He is definitely a puppy/teenager who was never taught not to mouth and jump up but we're working on it and the jumping has already lessened. Generally, if the kids are playing with him and he is excited, he will play bite. But if we are all quiet and just chilled out and not moving around a lot he settles down, too. Our situation right now is perfect: the kids are old enough to respond appropriately when Bentley play bites or jumps (they turn around and ignore him or walk away) and I have time to work with him during the day.

My daughter wants me to tell you that "we're falling in love with him!" Bentley is eager to please us, follows us around the house, and loves ear scratches and belly rubs! He really is a wonderful dog who just needed some positive attention and structure/boundaries. Thank you, for all that you and your fellow volunteers do to fill our lives with amazing dogs! I have been very impressed with the professionalism of all of the SGRR communications and the thoroughness with which you look after your dogs and us adopters! We are blessed to have Bentley in our lives! ~Amy, Patrick, & family
Gordy

Click to read my story!
Happily Adopted!
Just wanted to let you know that Mac (aka Gordy) is doing well! He napped the whole way home in the car with his head on my daughter's lap. He has been investigating the house and is loving his Nylabone. So far so good. He has gone out to the yard a few times with my husband and relieved himself each time. Good start! He is the sweetest boy ever! Thanks again for your help! ~Karen & Peter


---
Happy Tails


Forever Fosters


There are wonderful humans who will provide special dogs with a forever foster home, giving them all the love and attention they could ever hope for. Because of their age and/or disability these dogs were considered un-adoptable but they are still able to live with a good quality of life. SGRR pays for ongoing medical care for these special dogs Consider being a forever foster or sponsor so that we can continue to show that dog how wonderful his or her world can be. This is the true meaning of "rescue."
---