A Note to Our Approved Applicants

Applicants often ask how long it will take to adopt a dog. Sunshine, like many other rescue groups in the country, is currently in the enviable position of having many more terrific families and individuals approved and waiting to adopt a rescue dog than we have dogs. We wish that each of you could bring a rescue dog into your life as soon as you are approved to adopt. Knowing that is not possible, we ask for your patience and understanding as you await your dog. Our volunteers spend many, many hours evaluating our dogs and working on the right match to help ensure each dog finds a happy and forever home. For some of you, there will be a very short wait for a dog, while others will wait longer than hoped. This is simply a matter of getting the right match and does not reflect negatively on anyone. We are fortunate to have so many kind and giving people waiting to welcome home a dog in need. Thank you for your trust in Sunshine. We are hoping your wait will not be a long one!
Reasons to rescue...


Rescuing will change two lives forever — yours and your new companion's. Nationwide, animal shelters care for between 6-8 million dogs and cats every year, of whom 3–4 million are euthanized. The tragic fact is that there are simply not enough responsible homes for all of these wonderful, innocent animals. On occasion, SGRR will have puppies available for adoption that will be starting their lives as companions. While some dogs are older dogs, including well-behaved and cared for pets whose owners have become ill or died. Many rescued dogs will require continued behavioral work due to a lack of training, neglect, or abuse in the dog's previous setting. Remember, too, that companion animals are remarkably adaptable and have a boundless capacity for love. Just because they lived with someone else first, doesn't mean they wouldn't make a wonderful companion for you!
---
Adoptable Dogs
Hailey & Charlie


Click to read about us!

Bonded Senior Pair
Breed:

Lab mix & Golden Retriever

Color:

Golden

Age:

11 years

Size:

Large 60-100 lbs

Sex:

Male & Female

Fostered in MA

Zsa Zsa


Click to read about me!



A Royal Princess!
Breed:

Golden Spaniel Mix

Color:

Light Gold

Age:

9-10 years

Size:

Small 37.5 lbs

Sex:

Female

Cupcake

Click to read about me!

Please Read My Story!
Breed:

Golden Lab Mix

Color:

Golden

Age:

12-18 months

Size:

Medium 40-60 lbs

Sex: Female
Fostered in CT
Charlie Brown


Click to read about me!

An Amazing Boy!Breed:

Golden Retriever

Color:

Golden/Red

Age:

6 years YOUNG

Size:

Large 60-100 lbs

Sex:

Male

Fostered in CTCheck out my Video!

Kasia


Click to read about me!

Lovely Labby Lady!Breed:

English Lab

Color:

Black

Age:

3-4 years

Size:

Medium 40-60 lbs

Sex:

Female

Fostered in CT

Reggie


Click to read my story!

Handsome Red Boy!Breed:

Golden Retriever

Color:

Golden/Red

Age:

4.5 years

Size:

Large 60-100 lbs

Sex:

Male

Fostered in CT
---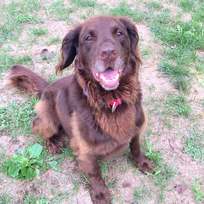 Courtesy Posts



Visit our Courtesy Posts page to take a look at wonderful dogs who are with some of our rescue friends. These dogs are just waiting for someone to love them and give them a forever home!
---
Adoptions Pending
---
Happily Adopted
Jesse

Click to read about me!

Happily Adopted!He slept all night, ate well last night and this AM. He had one altercation with Goldi but is fine with Cody and Sam, the cat. Hangs with me pretty much. Gonna go for a walk

tonight

but has been exploring the backyard. Loves treats & kisses!
~Susan

LucyLu


Click to read about me!

Happily Adopted!
She's settling well. We went on a few long walks today so she could explore the neighborhood. I took her to Petco to sign up for obedience class as well. She's also a big smuggler! She's fallen asleep with her head in my lap a few times. She's definitely a keeper! She seems to be getting more comfortable each day. Went to the vet today and she was such a good girl!
~Caroline P


Lena


Click to read about me!

Happily Adopted!

Lena is doing better every day. She is moving better and eating better. I added a quarter cup of the new food with her sensitive stomach food and she ate it without a problem.

She is starting to get more adventurous on her walks and we have to try to keep her calm. Landscape steps are a piece of cake for her now.

She seems to be very happy and comfortable. Her new owners are extremely happy and love her very much. It seems like a great match up. I'd like to thank the entire SGRR group, who have made this whole process very easy.

~Greg & Kyna

Molly


Click to read about me!

Happily Adopted!
Molly is doing great. We don't think Molly had seen snow before. During her first walk, she was hesitant to step on the snow. By her fourth walk, Molly stretched out and rolled around, trying to make snow angels. Otis, our 9 year old Sunshine Golden, welcomed Molly with a wagging tail. As I write this, our 2 Sunshine dogs are stretched out sleeping. Thank you for bringing both of these wonderful dogs into our lives. ~Valerie & Jeff

---
Happy Tails


Forever Fosters


There are wonderful humans who will provide special dogs with a forever foster home, giving them all the love and attention they could ever hope for. Because of their age and/or disability these dogs were considered un-adoptable but they are still able to live with a good quality of life. SGRR pays for ongoing medical care for these special dogs Consider being a forever foster or sponsor so that we can continue to show that dog how wonderful his or her world can be. This is the true meaning of "rescue."
---